Guitar Hero III and Rock Band face off in marketplace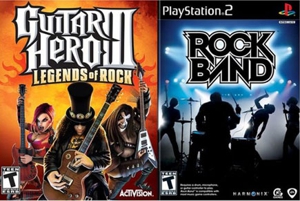 If the executives at Hasbro had thought to put Simon's colored buttons on the neck of a guitar, they would surely have enough money by now to build a toy store on the outer rings of Saturn. In the mere two years since its debut, the Guitar Hero franchise has sold a mind-pretzling 14 million units in North America, which amounts to over a billion dollars in revenue (and that's not counting the money they've made from selling five million downloadable tracks for Guitar Hero III).
Question: How many more times will I use the suffix "-illion" in this news item?
Answer: Three.
Developed by MTV Games and Harmonix (the shop that originally designed Guitar Hero), Rock Band hasn't been doing too shabby either. The newcomer game has sold in excess of one million units and two and a half million downloadable tracks. Even though it's kind of interesting to think about all that cash and how many countries you could buy with it, the encouraging thing is that artists are making a percentage, however small. Maybe plastic discs won't be replaced by MP3s after all. Maybe they'll be replaced by playable Guitar Hero tracks. Maybe the major record labels will be bought out for millions by Activision.
Music is fun. It's nice to know that it's at least being used to further its core purpose and not for something strictly educational.
Related links:
GuitarHero.com
RockBand.com
Unglued: Beyond Guitar Hero
Got news tips for Paste? Email news@pastemagazine.com.
Others Tagged With