Aerosmith to star in its own Guitar Hero game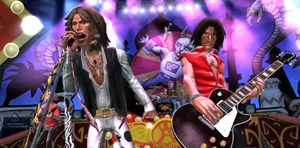 It used to be that when you loved a band, you learned about them by flipping through books and rock magazines. Video-game maker Activision felt it might simplify matters if you just became the band.
Guitar Hero junkies can look forward to Guitar Hero: Aerosmith, which is slated for release this June and also happens to be the first Guitar Hero title to focus on the music and career of a single band. As players progress through the game, they will play along to Aerosmith's greatest hits, as well as songs by notable artists with whom the band has collaborated. The game will also feature venues from key moments of the band's ascension into the rock pantheon. Dusty Welch, head of publishing for Activision/Red Octane, claims that this partnership will give Aerosmith "a powerful and innovative platform to reach their fans and new audiences."
In a press release statement, Steven Tyler gushes, "Any band that can go from 'Don't Want To Miss A Thing' to the ass-kicking 'Sweet Emotion' to the cheekiness of 'Love In An Elevator,' to the classic ballad 'Dream On' shows why Activision chose us to headline this game based on the diversity of the Aerosmith catalog. Not only is songwriting a bitch, but then it goes and has puppies."
The quote ends there, but we assume Tyler continued, "And the puppies are wasted on tequila shots but they just want to rock and PETA needs to back off and let them rock and oh man 'Sweet Emotion' was the moment behind a moment and....wait, what was the question again?"
Aerosmith's never been shy about leveraging its brand for new licensing opportunities. In the summer of 1999, Disney World unveiled the Rock 'n' Roller Coaster: Starring Aerosmith. There are no exact tallies of how many fans the coaster generated, but reports indicate that it was fast.
Related links:
Review: Guitar Hero III: Legends of Rock
GuitarHero.com
Aerosmith.com

Got news tips for Paste? E-mail news@pastemagazine.com.
Others Tagged With