Beautiful Beat: Nada Surf Rides On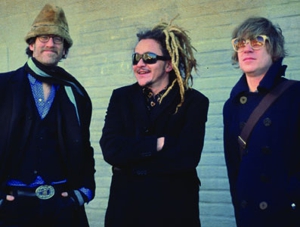 Can I tell you about the nerdiest thing I did recently?" Matthew Caws asks, leaning in, voice conspiratorial. We're squirreled away in the back of a café in Williamsburg, Brooklyn, eating sandwiches and trading dorky anecdotes. I nod vigorously, and he continues: "I've moved a few times in the last few years, and because of circumstance, I culled my records down to a hundred or something. And I was flipping through them trying to browse, but now that we're all so spoiled by iTunes and CDs, record spines seem really hard to read." He pauses. "This is so ultimately nerdy, but they're hard to read because the color fields keep switching—if the color fields were the same, it would be easier to read the type. So I thought: I'll put them in color order! It was the most exciting hour of my life. It looks like a sand sculpture. I think I have a picture of it in my phone," he says, rifling through his pockets.
Caws flashes a photo of his color-coded shelves, and I fuss accordingly. It's awfully pretty, charted and inviting like a Buddhist mandala. "I don't want to sound like a fuddy-duddy or a stereo-store guy, but after all the iPod and MP3 action, when you're at someone's house and they put on a Zeppelin LP, it's a flippin' revelation," Caws grins. "I hadn't had a working record player in a couple years, and I just got one and put it in my kitchen, and now I listen obsessively—I'd forgotten what a physical experience it is." He shakes his head. "Records used to move me—not just intellectually, like 'that's a good song, or those are good words or that's an interesting chord progression,' but move me, physically."
Caws—vocalist and guitarist for Nada Surf—is a charming conversationalist, just as happy to chat about restaurants with fireplaces or his work as a reporter for Guitar World as he is to dissect his band's fifth record, Lucky. The son of two academics—his father teaches philosophy; his mother, comparative literature—Caws' Manhattan-based childhood was hardly provincial. He attended high school at Le Lyceé Français, a famed bilingual institution on the Upper East Side, where he first met Nada Surf bassist Daniel Lorca. (Fellow graduates include The Strokes' Nikolai Fraiture, former French Prime Minister Dominique de Villepin and romance novelist Danielle Steel).
Caws frequently joined his parents on sabbatical in Provence, camping out in the backyard of their farmhouse. "There was no running water, one lightbulb," Caws recalls, laughing. "It was one room on top of another room, built into a hill by two brothers who argued and didn't want to live together, so there were no stairs. You walked around the hill and you were upstairs, and you walked down the hill and you were downstairs," he continues. "There was no room in the house for my sister and I so we slept in tents, outside, on little army cots, in flimsy sleeping bags."
Music was omnipresent, and Caws began playing guitar around his 11th birthday. "My mom is from Wilmington, N.C., and my aunt had a place in the mountains. She played folk guitar—fingerpicking—and she was a Bob Dylan and Joan Baez fan. We'd sit around and sing 'On Top of Old Smokey' or 'Blowin' in the Wind.' There was a guitar lying around, and I asked her about it one day and she said, 'Would you like me to show you something?' and I said 'I'd love that.' And she showed me one chord, E. And I took it into the other room and played it for an hour. At the time, I was really into the Ramones, and it was the perfect thing, because even though I didn't know how the Ramones' songs went, I intuited that it was just bang, bang, bang. So I just took that one chord and played it for an hour, moving it up one fret, moving it over, playing around with it. I was so thrilled, so excited," Caws sighs. "Eventually I did the thing where you take lessons from the weird guy in the mothball-smelling apartment down the street, and he teaches you 'Stairway to Heaven,'" Caws continues. "Then I was recruited to ease tensions at my parents' dinner parties. Academics don't always get along. Sometimes there would be loggerhead situations where no one would be speaking all of a sudden, and it was 'Matthew, could you come out and play something?' and I would stand there and butcher 'Stairway to Heaven.'"
Survivors of near-death experiences often claim they see a glowing white light immediately before (or after) their hearts sputter out. But for a band staring down a major record deal—like Nada Surf did in 1995—the last thing glimpsed before scrawling away all hopes and dreams wasn't a rapturous glow. It was Ric Ocasek's gnarly mug.
In the early 1990s, Caws, Lorca and drummer Ira Elliot were like any other band with a self-consciously quirky name: playing pensive, guitar-driven pop songs in dim-and-sticky New York clubs, wearing T-shirts and jeans and Chuck Taylors, trying to think up new ways to make their rent. But shortly after Ocasek—the former Cars frontman-turned-producer, now an official A&R rep for Elektra Records—popped up at one of their gigs, Nada Surf was offered a major-label deal, with Ocasek signed on to man the boards for their debut LP.
That record—1996's High/Low—yielded "Popular," a dopey song about cheerleader chicks and how to score dates (lyrics were culled directly from Gloria Winters' 1964 etiquette manual, Penny's Guide to Teen-Age Charm and Popularity, and, with the exception of the chorus, all spoken in an aggravated monotone). "Popular" hit #11 on the Billboard modern rock chart and earned loads of airplay on MTV (its video featuring copious making out and naked football players grinning in a locker-room shower). "Popular" added Nada Surf to a dubious list of alternative bands who managed to score unlikely radio hits in a guitar-friendly, post-Weezer, post-Nirvana landscape (see Better Than Ezra, Blind Melon, The Toadies, Letters to Cleo, Presidents of the United States of America and plenty of others). For folks who lost interest after the song dipped off the charts, "Popular" continues to define Nada Surf; for the band, they consider it a compelling, if otherwise unremarkable, blip.
"'Popular' was ultimately a very good thing, a fascinating ride," Caws says. "It took care of a lot of curiosity about a certain kind of success that [now] we'll never be tempted into signing away any rights in the hopes of attaining. As strange as our name is, that song made it well-known, which has been a bonus this whole time," Caws admits.
"I don't know how people perceive this band, and I don't want to know," Elliot adds. "I can't really tell you how I perceive this band. There are a lot of people who stop listening to music seriously after they get out of college, so I'm not surprised if we're still 'That '90s band' to them. That being said, I think as a band we passed through the 'Popular' Misconception Gauntlet—the PMG—somewhere around [2002's critically acclaimed] Let Go. We were kind of reborn there. We weren't the same band as we were in 1996 anymore."
Nada Surf's 15-year arc—from unsigned band to MTV mainstay to cred-wielding indie-pop trio—makes for a pretty good parable: Here is how the contemporary music industry fails bands, and here is how to recover, recommit and move on. After the success of "Popular," Nada Surf returned to the studio to record 2000's The Proximity Effect, and had to wrestle the record back from Elektra after executives didn't hear a single. After a couple of unsure years, the band released the much-lauded Let Go, kicking off a symbiotic relationship with Seattle's Barsuk Records. Using Nada Surf as an example, it's possible to argue that the contemporary music industry's fundamental fault isn't so much its inability to comprehend the wants and desires of its digitally minded consumer base, but its refusal to cultivate, foster and support young artists—pushing bands out of bed the moment they fail to replicate an initial success (or, in Nada Surf's case, preemptively shelving an entire album). Still, the band is hopeful that things are starting to change.
"I feel very optimistic about the future of the music industry," Lorca says. "Companies like Elektra will go the way of the dinosaur—oops, sorry, have gone—leaving room for smaller labels which deserve to thrive because of their ingenuity, flexibility, quality and vision. Anybody that thinks that music 'sharing' or 'illegal downloading' or whatever you want to call it is 'bad for the industry' either works for the industry or drums for Metallica."
The band's latest LP, Lucky, is another collection of sweet, melancholic guitar songs, a mew-and-strum concoction not so dissimilar from one-time labelmates Death Cab for Cutie (the two bands remain pals: DCFC guitarist Chris Walla produced 2005's The Weight is a Gift, and Ben Gibbard sings on Lucky's opening track, "See These Bones"). Recorded in Seattle with producer John Goodmanson, Lucky is pensive without feeling self-pitying—the sonic equivalent of curling up by a window on a grey afternoon, drinking warm tea in your pajamas and thinking about everyone you've ever known.
"The title came from the lyrics in 'From Now On' [a track that didn't end up on Lucky], in which I say I'm just a lucky mess," Caws explains. "Though I've been through a lot and don't always have it together, ultimately I feel really lucky and grateful for so much. All the usual corny suspects: health, friends, family, art. You can either remember how good you have it, or you can forget. I go dark really easily," he says. "I'm often just one click away from feeling like life is really bleak. So I have to remind myself of another feeling. A better feeling."
"Without getting too deep," Elliot agrees, "I think we're simply very lucky to be in the position we're in: still making music after a dozen years together; able to pay our bills and live comfortably without having to sell 80-squijillion records; signed to a couple of excellent record labels; we have fantastic, understanding girlfriends; one of us has a beautiful son; We're healthy and happy and doing what we love the most and we're fucking old. I'm gonna be 45 in a few months. It's crazy. It's fantastic."
"[But] don't misunderstand, luck is not the sole reason we're here," Elliot adds. "We worked hard and made a lot of difficult decisions that could have gone many ways. But I think this is a good point in our lives to stop and look around and be thankful for our good fortune. And now we simply continue on with the rocking.
"Still, I think we should have called it Chinese Democracy just for the fantastic 'Fuck You' of it. Man, that would have been sweet, don't you think?"