David Bowie in talks for movie about high school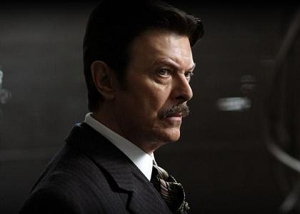 People born in 1990 are not only starting college this fall, some are likely to appear onscreen with David Bowie, who they may have only heard about within the past five years. That amount of time, of course, is nowhere near long enough to comprehend the extent of his superhuman powers, but we digress. According to MovieWeb (thanks, The Playlist), Bowie is in talks to join the cast of Will, a "coming of age comedy-drama" (CoAgComDram) starring High School Musical's Vanessa Hudgens and fellow Disney girl Alyson Michalka from Phil of the Future and Now You See It…, which Wikipedia says has something to do with magicians. Seeing as how Bowie's last roll was as Tesla in magic-centric The Prestige, maybe this explains his attraction to the project.
Except that Will isn't about sleights of hand or Goblin Kings, and sounds more straightforward than anything else he's ever been a part of. Following a similar plotline to Breakfast Club of Rock*, a "misfit" (played by Liam Aiken) hits it off with a "popular girl" over a shared love for music, and the two of them pull together an unlikely "crew" for a band, which goes on to battle against other groups of instrument-wielding teenagers. Battle with rock, of course.
Perhaps it would be best for the movie if Bowie played some kind of peripheral cameo-role with three scenes or less, like as a strange janitor whose mop closet is full of unusual instruments, one of which becomes the key to the band's success. Perhaps?
Written by Todd Graff (Camp) and Josh Cagan, Will also stars Lisa Kudrow and Scott Porter, the almost-30-year-old who plays disabled superstar QB Jason Street in Friday Night Lights.
* Not a real movie...yet.
Related links:
DavidBowie.com
Hollywood Records: Vanessa Hudgens
YouTube: "Magic Dance"
Got news tips for Paste? E-mail news@pastemagazine.com.