Jay-Z, Barclays, more named in $5 billion reparation suit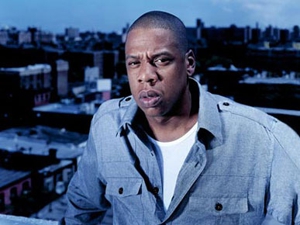 Now that the Oscars are over, it's time to reflect on the new season that's apparently upon us. Lawsuit season! It's that time of year, folks, and it's either sue or be sued. Yesterday, it was announced that the Foo Fighters had filed suit with Marvel Comics for allegedly using two of their songs without permission in a trailer for an upcoming television series.
Meanwhile, yesterday, The New York Observer reported that Clive Campbell, a Brooklyn-based activist (and incidentally not DJ Kool Herc, as was initially reported) has named none other than Jay-Z (née Sean Carter) himself alongside developer Brett Ratner and Barclays Bank in a rather byzantine lawsuit.
Let's take it from the top.
Carter, a co-owner of the New York Nets, has been a major supporter of a proposed $4 billion basketball arena that Ratner has been working to develop in Brooklyn for the team. The controversy began last year when Barclays Bank won the naming rights to the stadium. Barclays, a subsidiary of Barclays PLC, was named after former bank partners Alexander and David Barclay in the 17th century. In 1944, a book was published entitled Capitalism and Slavery, which made the claim that the bank had been founded using profits gained from the slave trade. The book also claimed that the David Barclay associated with the bank and a Quaker slave trader also named David Barclay were one and the same.
The bank quickly refuted the allegations, claiming that the two men were distinct entities, and Barclay the slave trader had no connection whatsoever with the bank. Later that year further allegations were made, which claimed that the bank indirectly played a role in 125 slave trading voyages, which the bank again denied, stating that former partner David Barclay not only wasn't a slave trader, he was an abolitionist and would never have been involved in the slave trade.
(Did you keep up with all that?)
Now, activist Campbell has filed a suit, which claims that the three named defendants "profited from the African Slave Trade and continue to profit from these gains, through a conspiracy dating back hundreds of years and continue to date to oppress Black people, enslave them, unlawfully deport them to all corners of the Earth." He's suing them for slavery reparations at the tune of a cool $5 billion.
There's no word from Jay's camp on what his next move will be in response to this growing controversy, but he might want to take note of the following. Regardless of whether Barclays was in fact involved with the slave trade hundreds of years ago, some quick research on the company reveals plenty of other, shall we say, questionable ties with everything from apartheid to Nazism to Robert Mugabe.
Not familiar with Mugabe? Oh, he was only named the seventh worst dictator in the world in 2007 by Parade magazine. And in 2006? Well, he was number four then.
Related links:
AtlanticYards.com
Barclays.co.uk
BBC News: Robert Mugabe, Zimbabwe strongman
Got news tips for Paste? E-mail news@pastemagazine.com.
Others Tagged With