Leonardo DiCaprio, Warner Bros. remaking Akira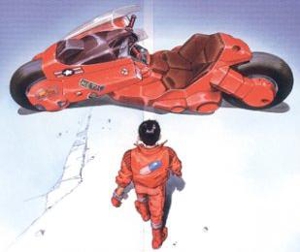 Abiding by the classic philosophy that if something is a success elsewhere in the world it should be adapted and Americanized, Warner Bros. recently announced through The Hollywood Reporter that it will be involved in a remake of Akira. More surprising is that Leonardo DiCaprio and his company Appian Way will be producing the project, leading to speculation about whether he will appear in the work or if he'll do what Brad Pitt did with The Departed and sit out.
Akira is one of the seminal works of anime, one of the first features in the form to gain any form of theatrical distribution in the United States. A coming of age story in post-apocalyptic Tokyo, its aesthetics went on to influence a generation of other features (oddly, the live action version is being moved to "New Manhattan"). However, the film is not based upon that work but rather the Manga that spawned the film. The original Akira was an epic, six-volume length series by Katsuhiro Otomo. While Otomo also directed the feature, his Manga is a far more sprawling and infinitely clearer work. In order to attempt telling more of this story, the live action adaptation will be cut into two films.
While casting is still unknown, Ruairi Robinson will direct. This is Robinson's feature debut, though he's previously worked on several sci-fi shorts, including the 2001 Oscar-nominated Fifty Percent Gray. Part one of the series is set for release during Summer 2009.
Related links:
Variety: WB takes franchise turn with 'Akira'
IMDB: Akira (1998 version)
IMDB: Leonardo DiCaprio
Got news tips for Paste? E-mail news@pastemagazine.com.
Others Tagged With