Restless in Peace: No Depression ceases publication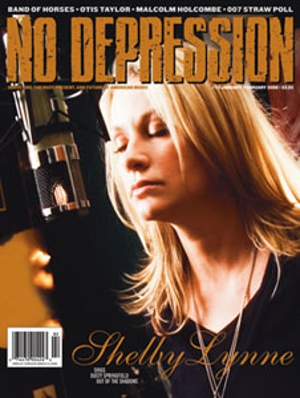 Today groundbreaking alt.country magazine No Depression announced its upcoming May/June issue—the publication's 75th—will be its last. This makes us very, very sad. No Depression isn't just a wonderful magazine full of love and respect for, if you'll allow us, Signs of Life in authentic American music with a focus on alt.country. It's a magazine that has eschewed the mainstream media's focus on celebrity as adamantly as anyone, choosing instead to highlight great music.
No Depression actually means quite a lot to us here at Paste. We're music fans and "No Dep" has been a key source of great information on artists we love like Son Volt, Steve Earle, Buddy Miller, Patty Griffin, Johnny Cash, Emmylou Harris and so many more. It was March of 2002, a few months before we launched Paste magazine, that fellow co-founder Tim Regan-Porter and I made our maiden voyage to the SXSW Music Conference in Austin, Texas. Our goal as the new kids in town was just to learn what we could about the biz. So, hat-in-hand, we sent an email to No Depression Editor/Co-Founder Grant Alden, in hopes that he'd grant us an audience to ask him some questions about, you know, how to do what he did. Grant graciously shared his wisdom and experience that day as we plied him with questions over great beers (a love for which we have in common) at the Ginger Man Pub.
But Paste's relationship with No Depression goes back farther than that. In the years before we launched the magazine, PasteMusic.com was a regular advertiser in No Depression. Even then we knew their readership to be smart, discriminating and lovers of great music. And that's why we wanted them to know about our online CD store.
So while Paste was a sometimes competitor to No Depression (after all, the two publications share a love for singer/songwriters), we've always maintained a great sense of admiration for Grant Alden and Peter Blackstock's creation and its ongoing place in the music-media landscape. We wish them a fond farewell. Their healthy dose of curmudgeonliness will be sorely, sorely missed, as will their unwavering support for Americana music. Their talents will certainly show up in other places soon enough (the publication's continued web coverage, for example), and we expect to hear from them again. Thanks, No Depression, for more than a decade of celebrating some of American music's best traditions.
Related links:
NoDepression.net
The Daily Swarm: Resonance mag R.I.P.

Got news tips for Paste? E-mail news@pastemagazine.com.
Others Tagged With