Rufus Wainwright stages Blackoutsabbath for June 21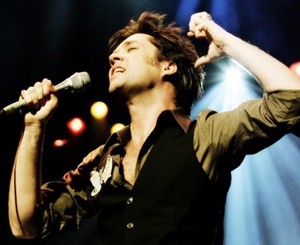 Last we heard from Rufus Wainwright, he was releasing an album of Judy Garland covers following Release The Stars. Now he's turning his attention in a different direction. March 19 will witness an un-amplified, candlie-lit Rufus playing to benefit his "Blackoutsabbath" initiative, a plan that has multitudes cutting their power for 12 hours on the Summer solstice (June 21) to make a statement about energy conservation.
"This intimate concert is being held to raise awareness about Blackoutsabbath and personally lowering one's carbon footprint," Wainwright explains via BlackoutSabbath.org. He also proposes that people use their time in the dark to make a list of environmental resolutions for the coming year, after which everyone will affix their list to their refrigerators with magnets. To support this, he asks that fans send in refrigerator magnets or give them to him directly at his shows. He also invites participants to post pictures of their magnets and discuss the issue in the Blackoutsabbath forum.
The Blackoutsabbath benefit (counting down: 123 days from now) will take place at the Angel Orensanz Foundation in New York City, but has already sold out. It will feature guests Joan Wasser, Teddy Thompson and Jenni Muldaur. More details also available on Wainwright's MySpace blog.
The show will be his last in the states before heading out on world tour during early Summer.
Dates, environmentally-oriented or otherwise:
March
4 - Solana Beach, Calif. @ Belly Up Tavern
6 - Santa Barbara, Calif. @ Majorie Luke Theatre
8 - Monterey, Calif. @ Golden State Theatre
9 - Napa, Calif. @ Napa Valley Opera House
10 - Palm Desert, Calif. @ McCallum Theatre
13 - Seattle, Wash. @ Paramount Theatre
14 - Portland, Ore. @ Newmark Theatre
15 - Park City, Utah @ Eccles Center for the Performing Arts

April
1 - Helsinki, Finland @ House of Culture
2 - Bergen, Norway @ Grieghallen
3 - Oslo, Norway @ Sentrum Scene
5 - Stockholm, Sweden @ Royal Dramatic Theatre
6 - Stockholm, Sweden @ Royal Dramatic Theatre
8 - Ystad, Sweden @ Opera House
9 - Copenhagen, Denmark @ Wallmans Cirkusbygningen
11 - Warsaw, Poland @ Palladium
30 - Reykjavik, Iceland @ Haskolablo

May
2 - Murcia, Spain @ Auditoio Y Centro De Congresos De Murcia
June
1 - Santiago de Compostela, Spain @ Auditorio de Galicia
13 - Hultsfred, Sweden @ Hultsfred Festival
Related links:
RufusWainwright.com
Rufus Wainwright on MySpace
Paste: Feature - Rufus Wainwright: Please Don't Feed the Vultures
Got news tips for Paste? E-mail news@pastemagazine.com.
Others Tagged With