Scarlett Johansson and David Sitek talk Tom Waits album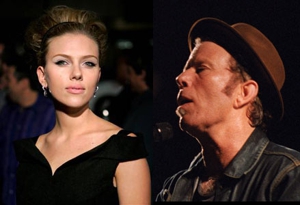 Joe's Pub in New York is known for gathering industry types for debuts of major label artists. Tuesday's event was only different in that the crowd consisted of a handful of shaggily clad journalists and the artist on stage had an unusually familiar face. Scarlett Johansson was there, answering questions after the house speakers played through Anywhere I Lay My Head, her album of Tom Waits covers which is set for release on May 20.
Paste happened to be in NYC, and caught the last three tracks of the album as well as the question and answer session. The record was nothing like we imagined. Instead of the lounge-y approach favored by fellow young thespians like Minnie Driver, it's a feast of indie production with TV on the Radio's David Sitek going all David Fridmann, layering keys, guitars that sound like keys (What kind of synthesizer is that? "It's Nick Zimmer [of Yeah, Yeah, Yeahs] on guitar playing really fast through something weird," Sitek says.) and a collected assortment of sounds found outside a studio in Lafeyette, La. The stated goal was "a cough medicine/Tinkerbell kind of vibe."
Johansson, whose initial aspiration was musical theater ("It didn't work out because my voice was too deep for Cosette in Les Miserables."), says the project began as an attempt to cover standards, including a Tom Waits duet with Bette Midler. Over time, one Waits song led to another, and she decided to just go with all Waits. "His melodies are so beautiful, his voice is so distinct and I had my own way of doing Tom Waits songs," she says.
The results, as far as we could tell, are true to Waits' spirit of weirdness without sounding anything like him.
"My ultimate goal," says Sitek, "was to not get chased down by Tom Waits and get my ass beaten in a bar."
So far, then, the forthcoming album is an unmitigated success. Reportedly, David Bowie sings on two tracks, "Falling Down" and "Fannin' Street." According to Sitek, the music icon joined the project because "he lost in Scrabulous to me. Just kidding. I relish in these moments when I'm constantly reminded I'm an amateur. His parts were so far out."
Despite the fact that no live plans are currently in the works for the project, Johansson says that a future festival appearance is not out of the realm of possibility.
Tracklisting for Anywhere I Lay My Head:
"Fawn"
"Town With No Cheer"
"Falling Down"
"Anywhere I Lay My Head"
"Fannin' Street"
"Song for Jo"
"Green Grass"
"I Wish I Was in New Orleans"
"I Don't Want To Grow Up"
"No One Knows I'm Gone"
"Who Are You?"

Related links:
Scarlett Johansson on IMDB
YouTube: Tom Waits and Iggy Pop in Coffee and Cigarettes
David Sitek on Flickr
Got news tips for Paste? E-mail news@pastemagazine.com.
Others Tagged With