10 Best Baseball Songs
(That aren't John Fogerty's "Centerfield")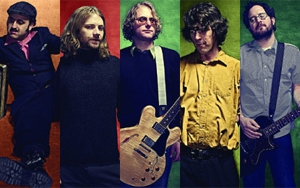 "The Ballad of Russell Perry" — Vigilantes of Love
Bill Mallonee's hearfelt tale of a wily, navel-gazing Tennessee fastballer.
"Baseball Dreams" — The Naturals with Mel Allen
The Run-DMC of baseball music.
"Catfish" — Bob Dylan
His Bobness waxes country-blues poetic on A's pitcher Jim "Catfish" Hunter.
"Did You See Jackie Robinson Hit That Ball?" — Natalie Cole
An ode to the man who broke Major League baseball's color barrier. Originally popularized by Buddy Johnson.
"A Dying Cub Fan's Last Request" — Steve Goodman
The most perfect, heartbreaking baseball song ever written.
"(Love is Like a) Baseball Game" — The Intruders
A curveball from Philly-soul producers Gamble & Huff.
"Pete Rose Affinity" — Summer Hymns
A classic tale of childhood autograph-seeking gone awry.
"Say Hey (The Willie Mays Song)" — The Treniers
Mays actually sings backup on this big-band romp, while Quincy Jones conducts.
"Take Me Out to the Ball Game" — The Hold Steady
No one rocks this 7th-inning-stretch tradition like Craig Finn and co.
"Tessie" — Dropkick Murphys
A punked-out shout-out to Boston's famed Royal Rooters.
HONORABLE MENTIONS:
"Baseball" - Sam Baker

"Baseball Boogie" - Mabel Scott

"Cubs in 5" - Mountain Goats

"The D-O-D-G-E-R-S Song (Oh, Really? No, O'Malley)" - Danny Kaye

"The Fenway" - Jonathan Richman and the Modern Lovers

"Glory Days" - Bruce Springsteen

"I Love Mickey" - Mickey Mantle & Teresa Brewer

"If You Can't Make a Hit at the Ballgame, You Can't Make a Hit with Me" - The National Pastime Orchestra

"Joltin' Joe Dimaggio" - Les Brown and His Orchestra

"Life is a Ballgame" - Sister Winona Carr

"Move Over Babe (Here Comes Henry)" - Bill Slayback

"Piazza, New York Catcher" - Belle & Sebastian
Many of the super-awesome songs highlighted here can be found on the equally super-awesome 1989 Rhino Records compilation Baseball's Greatest Hits. Highly recommended for aficionados, this baby goes yard with ducks on the pond.
Others Tagged With