Band of the Week: Evangelicals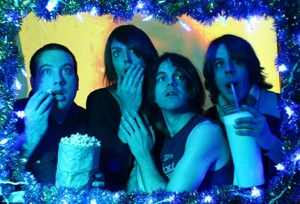 Hometown: Norman, Okla.
Members (L-R): Austin Stephens, Kyle Davis, Josh Jones, Todd Jackson
Fun Fact: Principal songwriter Josh Jones traveled with The Mooney Suzuki as a guitar tech about a year before his Evangelicals got their break. While on tour, he committed the ultimate roadie taboo and tried to hand out his band's demos to various A&R guys.
Why They're Worth Watching: These Okies take a sledgehammer to indie pop and spit the fragments in a hundred different directions, hitting everything from overdriven synth rock to campfire sing-a-longs.
For Fans Of: The Unicorns, Deerhoof, Screamin' Jay Hawkins
Josh Jones knew he just needed a connection with a record label to help spread the gospel of his Evangelicals project. Well, that, and an actual band.
"I was just trying to get something recorded so that I could have something to recruit a band," Jones says from his home in Norman. "You can go and tell people, 'Man, I'm a really great songwriter,' or 'I have really great songs,' but they'll probably think you're full of shit."
But gradually, Jones won his converts: drummer Austin Stephens over late-night music discussions while Stephens was on duty at an area convenience store, and bassist/keyboardist Kyle Davis via a MySpace invitation. Together, the trio managed to complete So Gone, a winding funhouse of a debut the manic songs of which had been bouncing around Jones' head since he was in high school.
But beneath all of the record's high-wire trappings—shouted vocals, giggling synths and an army of left field samples from Jones's extensive collection of four-track tapes—lay a surprising emotional vulnerability. Damaged refrains such as, "I need some help!" or, "looks like I've cracked up again," would bubble up from within the syrupy mix like unexpected S.O.S. transmissions. Much of that dark undercurrent stemmed from So Gone's troubled birth—just Jones confined to a low-grade studio on the outskirts of Oklahoma City, often recording on his own for weeks at a time.
"You start getting freaked out," he says, recalling the process. "You don't see anybody else for a couple of weeks. There are no windows, and you're in a bad part of town, so you're not really going out much. You start getting this weird kind of isolated paranoia that makes you reflect on some of the darker aspects of your life."
Two years later, Evangelicals have taken that darkness and stretched it to its breaking point on their sophomore album. With its ghostly vocal effects, ghoulish song titles and nocturnal atmosphere, The Evening Descends plays like a score to a drive-in horror movie of yesteryear. It's no small coincidence that Jones kept his copy of The Rocky Horror Picture Show soundtrack on heavy rotation during the album's gestation period. Of course, Rocky Horror has gained most of its notoriety for its cultish fanbase of sexually repressed theatre geeks, but Jones will defend Richard O'Brien's cheeky score against all comers.
"There's so much extra bullshit surrounding that scene," he says, "but the music's actually great, man. You know I'm a big David Bowie and T. Rex fan. So if you like that stuff, [Rocky Horror's music] is right up your alley."
And yet the morbid theatrics on The Evening Descends aren't all just fun and games. Lead single "Skeleton Man" bounds along jauntily while detailing the story of a jilted lover who incinerates his internal organs to kill his feelings. Vivid nightmares haunt the narrator of "How Do You Sleep?" and a young reveler gets his legs severed in the phantasmagoric "Party Crashin'". After all, how better to deal with emotional distress than to take a fantastical spin on it?
"Most of the stories in The Evening Descends are about people who are fucked up and are trying to figure out how not to be fucked up," Jones says with a chuckle.
As for Jones himself? He's doing just fine, with a long Evangelicals tour currently in process and strong reviews pouring in for The Evening Descends. The band has swelled to four members with the addition of Todd Jackson on guitar, and now has a new label home on Dead Oceans, a subsidiary of Secretly Canadian. Just a few years back, Jones was still scrambling to assemble his evangelical vision. But now that his flock is officially in business, he has to keep it on the move to stay abreast with the demands of the music industry.
"If you're interested in continuing to do this for awhile," he says, "there's not a lot of time to sit on your ass."
Read about Paste's March 4 to Watch artists:
Estelle
Bon Iver
Thao
Throw Me the Statue
Others Tagged With