Billy Bob Thornton to direct again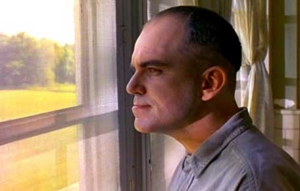 Cinema Blend reports that during "A Conversation with Billy Bob Thornton" at SXSW on Tuesday, amid the actor/director/singer/screenwriter's prolix musings on the areas of his expertise (much of it transcribed here, absolutely worthy of 10 minutes of your time) was an announcement of what will be his first two directorial projects in nine years.
The only specifics he gave as he sat before the crowd in a leather jacket and sunglasses ("…the…reason I'm keeping my sunglasses on, it's not like I'm trying to show off my new sunglasses. OK, here's the deal. I had a little too much fun out at Cooter's last night…") was that one film will focus on famed cave diver Floyd Collins, who turned into a media spectacle in 1925 when he became trapped 50 feet underground.
Thornton said the story gets at the heart of humanity. "It's human nature to want to see other people suffer for entertainment," he said. "That's why we have reality television. That's why every time there's somebody trapped in a hole, everybody's interested."
With a handful of brilliantly spliced-together anecdotes, Thornton explained how working with Harvey Weinstein on All the Pretty Horses soured him on directing, relating it to the time Martin Scorcese watched Sling Blade and told him to cut nothing, because he'd never have the opportunity to maintain full control of a film ever again.
As for who's starring in these movies: "So [my manager] already is saying, OK you gotta cast this famous person and that famous person and this famous person and I've already called this famous person. Don't be calling no famous people! …. I don't want them in the part. I want this guy Bill that I know."
Related links:
IMDB: Billy Bob Thornton
BillyBobThornton.net
CinemaBlend.com
Got news tips for Paste? E-mail news@pastemagazine.com.
Others Tagged With