Wal-Mart's CD markdowns worry music industry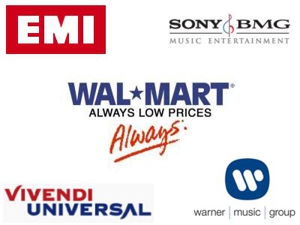 Lower prices may come at a high cost for the music industry. Wal-Mart—the largest retailer of music with an estimated 22 percent market share—proposed a five-tiered pricing plan to the major record companies that allows the discounter to sell albums at even lower prices, requiring the four major labels to pay more of the costs.
According to Billboard, Wal-Mart plans to price the 15-20 best-selling titles at $10 each, hits and current titles at $12, top catalog titles at $9, midline catalog titles at $7 and budget releases at $5.
While Wal-Mart maintains that the proposed price drops are a healthy move for the customers, the deal has stirred up much concern in the labels, prompting a music industry executive to say, "The decision might come down to: Do we give up 20 percent of our business (i.e. Wal-Mart) in order to not lose the entire business?"
Based on similar dealings the retailer has made, this question assumes that Wal-Mart will either penalize or stop doing business with a major label that decides not to participate in the pricing program.
If accepted, the markdown will not necessarily affect independent brick-and-mortar record stores' pricing, however.
"If Wal-Mart's pricing scheme causes the labels to look at their costs differently, potentially, the consumers would win," says Eric Levin, owner of Criminal Records and president of the Alliance of Independent Media Stores (AIMS).
Most of Levin's concerns lie in the effects Wal-Mart's move will have on the art itself. "Although I personally like a low-fi bedroom recording as much as the next guy, I also love a big-budget masterpiece, written over a long period of time and recorded in a big studio with patience and skill," Levin says. "Without the ability for musicians to properly profit, music and art will suffer."
Related links:
The Daily Swarm: Wal-mart proposes new CD price plan
Wal-mart: How We Get Every Day Low Prices
Paste: MySpace Music deal attracts big labels
Got news tips for Paste? E-mail news@pastemagazine.com.