Bob Dylan wins Pulitzer Prize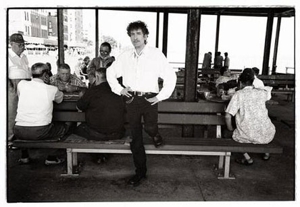 The Pulitzer Board has awarded Bob Dylan a special citation for his hard-nosed investigative series tackling abuse and corruption in America's prisons "profound impact on popular music and American culture, marked by lyrical compositions of extraordinary poetic power." Like Al Gore's Academy Award and Arnold Schwarzenegger's Gubernatorial victory, this honor carries an air of did-I-hear-that-right surrealism, as music Pulitzers have generally gone to jazz or classical performers like John Coltrane and George Gershwin. But the recipients of prestigious awards, they are a-changin'.
"I don't think Bob Dylan needs a Pulitzer Prize," San Francisco Chronicle critic Joshua Kosman was quoted as saying in the New York Sun in 2004. The piece follows, "Greg Sandow of NewMusicBox.com concurred, but argued that the prize needs Dylan."
American composer David Lang also won a Pulitzer for his piece, "The Little Match Girl," based on the Hans Christian Anderson story.
"I told my children I won the Pulitzer, and they were like, 'OK, big deal,'" Lang told the LA Times. "But when I said, 'OK, they gave a special award to Bob Dylan, just like me,' they said, 'Oh, this is really something.' "
Related links:
Pulitzer.org
BobDylan.com
YouTube: Dylan performs "Like A Rolling Stone" in 1966
Got news tips for Paste? E-mail news@pasteamgazine.com.
Others Tagged With