Dr. Dog, Del McCoury, Method Man, more go Forecastle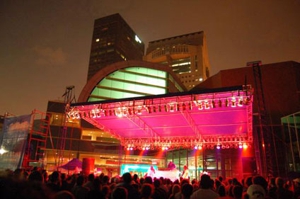 This is the seventh year for Forecastle in Louisville, Ky., and the festival has broadened its range accordingly. The fest announced a new venue last June, and has booked Method Man, Dr. Dog, Margot and the Nuclear So & So's, Disco Biscuits, Morning State, Z-Trip and Del McCoury to headline. Other notable acts include Snowden, Unwed Sailor, Peter Searcy and Film School. And Prizzy Prizzy Please, but mainly because we just like saying their name.
"It's the best line-up in the festival's seven year history," said festival founder and producer JK McKnight in a recent statement. "It's twice the size of the 2007 event."
Beyond the music, there will be artists on hand displaying their work. Also, activism groups from the Sierra Club to the University of Kentucky's Greenthumb will be on hand. If that isn't enough to get your green on, there will also be a personal empowerment panel as well as an environmental film showcase. And if the thought of global warming gets to be too much, fest-goers can go thrash out their frustrations at the outdoor extreme sports park.
Tickets go on sale next Wednesday, April 30, at 10 a.m. via Ticketmaster. Or, if you are in the area, support one of these local record shops by buying tickets through them: ear X-tacy Records in Louisville, CD Central in Lexington, Euclid Records in St. Louis, Grimey's in Nashville, Indy CD & Vinyl in Indianapolis, Landlocked Records in Bloomington and Shake-It Records in Cincinnati.
Music:
Disco Biscuits
Method Man
Tortoise
Z-Trip
Ekoostik Hookah
Del McCoury Band
Dr. Dog
Margot and the Nuclear So & So's
Morning State
Film School
Unwed Sailor
Delvin & Darko of Spank Rock
Snowden
The New Mastersounds
Groovatron
Extra Golden
Catfish Haven
DJ 2nd Nature
Cabin
Code Red
People Noise
Paradigm
Prizzy Prizzy Please
The Seedy Seeds
Otis Gibbs
Pomegranates
D.W. Box and One Long Song
The Photographic
Noizejoi
Backyard Tire Fire
Arnett Hollow
Mighty Mudkids
Jamili Brown
Go Van Gogh
The Seedy Seeds
The Town Criers
The Giving Tree Band
All We Seabees
Brigid Kailen & Peter Searcy
Josh Garrels
Chris Volpe

Art:
Alexis Culver
Emily Detrick
Russell May
Jessica Riordan
McKinley Moore
Michele Korfhage
Michael Koerner
Monica A. Vincent
Mary K. Norman
Susan Kehr
Pat Collins
Ryan Goff
Terry Tap
Walter Early
Meredith Carr

Activism:
Appalachian Trail Conservancy
Earth First!
Mountain Justice Summer
Sierra Club
Dogwood Alliance
Southern Energy Network
Earthsave
Carbonfund
Headcount
Buckeye Forest Council
Kentucky Trails Association
Ohio River Foundation
RESULTS Global Grassroots
Kentucky Heartwood
National Council of Churches' Eco-Justice Program
Ohio Valley Creative Energy
Kentucky Waterways Alliance
Kentucky Resources Council
Kentuckians For The Commonwealth
Community Farm Alliance
Valley Watch
Olmsted Park Conservancy
Breaking New Grounds
Future Fund
UK Green Thumb
Bicycling for Louisville
Caldwell Eco-Center
Cultivating Connections
KAIRE
Urban Seeds
Bike Couriers Bike Shop
Slow Foods Bluegrass
Narrow Ridge Earth Literacy Center
CART w/ many more to be announced

Related links:
ForecastleFest.com
Forecastle on MySpace
News: Band of Horses, Cass McCombs to play Halfway to Forecastle

Got news tips for Paste? E-mail news@pastemagazine.com.

Others Tagged With