Eddie Murphy and MST3K alum want you to Meet Dave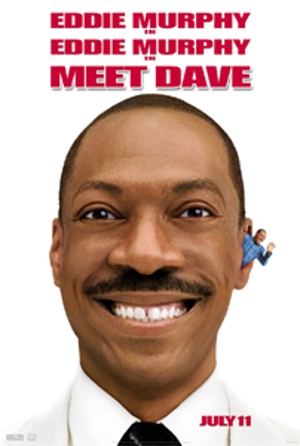 Have you ever meet someone and been like, oh my God, that person is so incredibly awkward, they can't actually be a person, they must be a spaceship disguised as a person? And then you think for a second and you're like, whoa, that would make a lot of sense except, like, who's ever heard of a spaceship disguised as a person?
If you're like us and this happens to you at least three or four times a week—or, more realistically, if you just happen to be an 8- to 12-year-old or a parent of one—Eddie Murphy's upcoming film Meet Dave will definitely be of interest to you.
Murphy stars as Dave, a fellow who dresses oddly, has trouble talking to women, jaywalks, kicks cats, can't dance, doesn't know how to shake hands and sings really funny. But unlike everyone you know who fits that description, Dave has an excuse: He actually is a spaceship. A spaceship that looks like a human being. A spaceship manned by a crew of aliens (Gabrielle Union, Ed Helms, an inexplicably British-accented Murphy, and others) as zany as they are tiny. A spaceship that falls in love with an Earth chick (Elizabeth Banks) after she hits him with her car.
See? It could happen!
Currently slated for a July 11 release, Meet Dave (née Starship Dave) was penned by Mystery Science Theater 3000 scribe Bill Corbett and longtime television writer/producer/director Rob Greenberg (Frasier, How I Met Your Mother)—which is actually the impetus for us writing about this film in the first place. We're thinking their involvement will certainly liven up what could've otherwise been another mundane summer movie.
Watch the trailer:
Might we suggest that Corbett and fellow MST3K alums Mike Nelson and Kevin Murphy give Dave one of their hilarious RiffTrax treatments? Why yes, we certainly might.
Related links:
Meet Dave on IMDb
Review: Shrek the Third
MST3K.com
Got news tips for Paste? E-mail news@pastemagazine.com.
Others Tagged With