Hillary Clinton following debate with Colbert appearance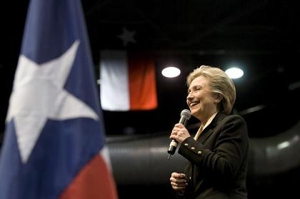 You say you wannna get a little bump in here
Shaking the room, give it the boom
Cmon
You say you wanna get a little bump in here
It's all good
- Raven Symoné, "Bump"
The folks over at Fox News wonder if tonight's Democratic debate in Pennsylvania is White House hopeful Sen. Hillary Clinton's "last stand" before the April 22 Pennsylvania primary, seemingly overlooking the science-backed power of satirical programming. Sen. Clinton will be a guest on Thursday night's Colbert Report, a fact MSNBC's Chris Matthews, apparently unable to contain himself during a taping of the Report itself, made known ahead of an official Comedy Central announcement. Being a cable news pundit, the man does get a little blurty on occasion, and we know Sen. Clinton would like to be Colbert-bumped more than five points ahead of rival Barack Obama in the Quaker state, so this story must be truer than truthy.
Unlike Obama's wife Michelle, who made her first late-night television appearance on Tuesday's episode, Sen. Clinton has made the rounds, giving "editorial responses" on Saturday Night Live, presenting Top Ten lists on Letterman and corresponding live via satellite on Colbert's old haunt, The Daily Show with Jon Stewart. Perhaps a stop on Conan O'Brien for a round of "Celebrity Secrets" would be too risky, but don't put it past her just yet.
As previously reported, The Colbert Report is taping at the University of Pennsylvania this week for its "Dorito's Spicy Sweet Pennsylania Primary Coverage from Chili-Delphia - The City of Brotherly Crunch!" The episode with Sen. Clinton airs tomorrow night on Comedy Central.
Related links:
Comedy Central: The Colbert Report
HillaryClinton.com
Clinton on MySpace
Got news tips for Paste? E-mail news@pastemagazine.com.
Others Tagged With