McSweeney's new Wholphin to feature Rudd and Deschanel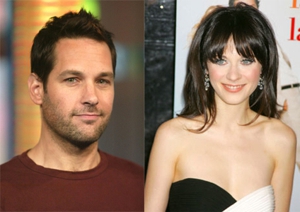 McSweeney's will release the fifth edition of its DVD magazine, Wholphin, on June 5.
Wholphin No. 5 features 12 rare or unseen short films hand-picked by the editors of McSweeney's, the publisher of all things dryly humorous, and home to authors including Tobias Wolff and Ian McEwan. The movies are plucked from all corners of the film world, from the festival circuit to basement animation studios. Contributors include established directors and writers, filmmakers who submitted their work to WholphinDVD.com, and McSweeney's editors. The June DVD clocks in at 155 minutes, and is packaged with liner notes including Q&A's with the films' actors and directors.
One of the films featured in the June issue is director Amy Lippman's House Hunting, adapted from the short story written by McSweeney's contributor Michael Chabon. The film stars Paul Rudd and Zooey Deschanel as a couple who likes to get, ahem, intimate as they scout suburban real estate. Other film selections include Wholphin editor Brent Hoff's Drunk Bees and the Academy Award nominated short Madame Tutli-Putli.
Wholphin was the brainchild of McSweeney's helmers Dave Eggers and Brent Hoff, who started publishing it quarterly two years ago. The magazine and its website have grown exponentially since the first issue, attracting directors such as Spike Jonze and Steven Soderbergh, and actors including Maggie Gyllenhaal and Peter Sarsgaard. The magazine began with an online distribution deal with IODA, and recently signed an additional national deal with RYKO Distribution. Later this year, Wholphin will begin providing exclusive content for YouTube's new film channel "The Screening Room."
Awards and international distribution deals have been piling up. Wholphin programming has been screened at film festivals from Hong Kong to Australia, and the company will begin contributing to an Italian television network this fall. The magazine was recently honored with a special event series at the 10th Anniversary Perth Revelation Film Festival, and asked to give out the "Best Short Film Award" at this year's SXSW. The Wholphin original film Walleyball was also nominated for a Pangea Day Award.
Can't get enough Wholphin? Its creators will be staging events in Los Angeles and San Francisco in the near future. Check out the dates below, and remember: arrive with popcorn in hand and tongue firmly in cheek.
Dates:
April
29 - Los Angeles, Calif. @ Silent Movie Theatre
June
19 - San Francisco, Calif. @ Club Mezzanine
Related links:
McSweeneys.net
WholphinDVD.com
Review: The McSweeney's Joke Book of Joke Books
Got news tips for Paste? E-mail news@pastemagazine.com.
Others Tagged With