Mike Judge, Jason Bateman team up for new office comedy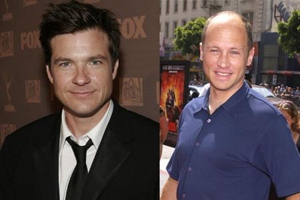 Right now, if you search IMDb for Extract (Mike Judge's newly-announced workplace-comedy starring Jason Bateman), the occasionally dubious website directs you to Beef Extract Room, supposedly a silent documentary short released in 1901. ("AKA Beef Extract Department. No. 1: Filling Jar," it says, "One of approximately 60 short films produced by Selig for meat-packers Armour & Co.") There are no memorable quotes.
So, until that gets fleshed out a bit more, here's the basic information. Judge has written, and will direct the film, set to be the first project under the Beavis and Butthead/King of the Hill/Office Space creator's production company, Ternion, co-formed with Blades of Glory writers (and former King of the Hill producers) John Altschuler and Dave Krinsky.
Bateman will of course fill the accessibly-attractive leading-man-at-the-end-of-his-rope role, familiar material for both him and Judge. O, what gauntlet of humiliation must our corporate 30-something hero maneuver this time? Hollywood Reporter writes: "Extract follows a flower extract plant owner (Bateman) dealing with workplace issues and a stream of bad luck, including his wife's affair with a gigolo."
Mirimax will distribute it in North America at a to-be-determined date. In the meantime, ABC has bought 13 episodes of Ternion's first television series, The Goode Family, which will air the first quarter of 2009, according to Variety.
Related links
Mike Judge on IMDb
Jason Bateman on IMDb
YouTube: The Office Space "printer scene"
Got news for Paste? E-mail news@pastemagazine.com.
Got news tips for Paste? Email news@pastemagazine.com.
Others Tagged With