The Flight of the Red Balloon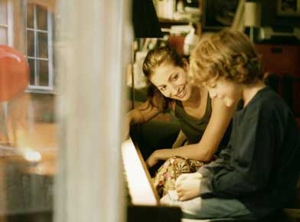 Release Date: April 4
Director: Hou Hsiao-hsien
Writers: Hou, François Margolin
Cinematographer: Mark Lee
Starring: Juliette Binoche, Simon Iteanu, Fang Song
Studio/Run Time: IFC Films, 113 mins.
Chinese-born/Taiwan-raised director adapts fantastical children's short film into beautiful movie for adults
It's tempting to put the latest movie by Hou Hsiao-hsien into a neat little box. Although it's not a film for kids, it's an homage to Albert Lamorisse's endearing children's short The Red Balloon, and at times it seems as buoyant and aimless as a helium-filled toy. Hou is working in France instead of his usual Taiwan, and with Academy Award-winning actress Juliette Binoche instead of his cast of regulars, which makes the entire project feel like a detour for an artist best known for complex, austere films about Taiwan's pulsing present and tumultuous history.
But Hou has taken flights of fancy before. He mined his childhood memories of the warm, buzzing countryside for A Summer at Grandpa's, and he ventured to Japan for Café Lumiere, his minimalist homage to Ozu. Even when he's working with simple ingredients, he brings along his masterful sense of space, timing and everyday observation, which gives an actress like Binoche ample room to shine. In Flight of the Red Balloon, she's a busy single mother, vibrant and wonderful, glowing from beginning to end.
Of course, she glows within Hou's framework, his layers of light. He carves her tiny Parisian apartment into sections: the sliver of a kitchen, the front door that leads to chaos, the corner for video games and the table that sits front-and-center, anchoring the patient, slowly panning camera.
Lamorisse's short is about a loner of a boy who has the best of all possible friends, an amazingly reactive balloon, but Hou's film is a realistic look at the inside of this fantasy, at the modern-day stresses on close-knit families. He slips behind Lamorisse's facade like the Taiwanese amateur filmmaker who takes a job as Binoche's nanny, an echo of Hou within his own story; the nanny even tells us how special effects make the balloon move.
Since Flight falls at the simple-but-elegant end of Hou's spectrum, the mysterious and lyrical finale in the Musée D'Orsay comes as a surprise; this balloon is anchored by some heft.
Others Tagged With