Gore Verbinski directing Bioshock film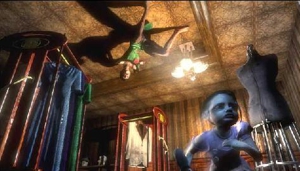 We've long thought a Bioshock film was on the way, but that didn't make Variety's announcement of the specifics any less, well, shocking. Universal and Gore Verbinski (Pirates of the Caribbean)will be making a film adaptation of the acclaimed video game, set for release likely sometime in 2010.
Bioshock takes place in an Ayn Rand-based dystopia, with the player going deeper into its society and learning about how messed up things get. A surprise blockbuster upon release, considering the relatively lackluster performances of its spiritual successors in the System Shock series, the game has gone on to sell more than two million copies worldwide.
"I think the whole utopia-gone-wrong story that's cleverly unveiled to players is just brimming with cinematic potential," Verbinski told Variety. "Of all the games I've played, this is one that I felt has a really strong narrative."
Best of all, it looks like the adaptation will actually follow through this time, unlike the constant stalls surrounding the Halo film. "The reason I structured it the way I did is to make sure it gets made," said Take-Two executive chairman Strauss Zelnick.
John Logan, screenwriter on The Aviator, is writing the script. Reportedly, game director Ken Levine has been "regularly consulting" with Verbinski, though what exactly this means is anyone's guess. No firm release date is set, since the film's script isn't yet finished.
Related links:
Review: Bioshock
Review: Pirates of the Caribbean: At World's End
News: Guillermo del Toro interested in adapting Bioshock?
Got news tips for Paste? E-mail news@pastemagazine.com.
Others Tagged With