Dawn of the Dead going 3-D soon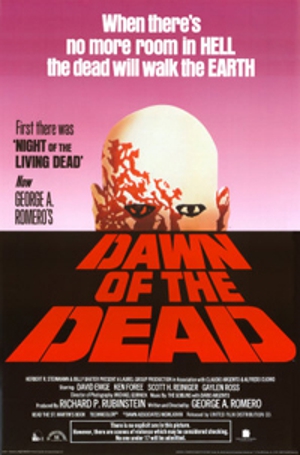 "When there's no more room in hell, the dead will walk the earth," is the classic film's tagline. Now the famous zombies will give you more excuses to clutch a loved one—even if it's a rotund, huggable bucket of popcorn—as they literally rise from two dimensions.

New Amsterdam Entertainment has enlisted In-Three, a 3-D company, to transform George A. Romero's 1978 flick Dawn of the Dead into a 3-D theatrical release, with hopes of having the project finished by the end of the year. And according to the Hollywood Reporter, the conversion process can cost upwards of $50,000 - $100,000 a minute. Averaging that for the approximately two-hour movie, that's about $9 million. Ouch.

Other movies that have made the bespectacled leap include The Nightmare Before Christmas, parts of Star Wars, Casablanca and Wizard of Oz. CNNMoney reports that ET, Titanic and Lord of the Rings are next in line. Our vote is for Shaun of the Dead.

If you're still skeptical about the "dimensionalization," go here for a photo of Peter Jackson donning 3-D spectacles and other directorial 3-D testimonials.

Related links:
Dawn of the Dead on IMDb
In-Three.com
Feature: Simon Pegg Gets Punk'd

Got news tips for Paste? E-mail news@pastemagazine.com.

Others Tagged With