Joseph Arthur breathes life into digi-album Bag is Hot, tours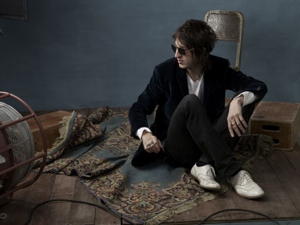 When an album is good, there always seems to be something that lingers about that final note, something that makes listeners wish that the record will go on forever. Now Joseph Arthur is answering that simple notion with an album that actually does go on, in theory, forever.
"Bag is hot—like fresh popcorn for all the kids to grab," Arthur said in a recent press release. "Digital hands eating the digital popcorn. This project is fun and doesn't have to be precious, but it's hard not to take it seriously and really work on it. It's not, 'Bag is getting a little lukewarm—bag is hot!"
The "living, breathing album" comes to listeners via Arthur's tumblr blog. The tracks are scattered among his sketches, free verse and photography, often of himself and his band in intrinsically artsy places. Currently, 10 tracks exist, and more may be added by Arthur at any time, making the album completely unpredictable. Much more focused and charming than another shaggy troubadour's now-defunct tumblr, the concept site will be accompanied by actual physical releases, too: Vagabond Skies EP on June 10, Foreign Girls EP on July 8 and Temporary People LP on Sept. 16 with the Lonely Astronauts.
Arthur will be taking his prolific Bag on the road this summer too. Catch him while he's, er, hot.
Current Bag is Hot tracklist:
Fading (May 5)
Still Life Honey Rose (May 4)
Burning Wheel (May 1)
Father's Eyes (April 29)
So Far Away (April 27)
If Yer Afraid (April 24)
My Eyes Follow You (April 23)
Blast Off (April 22)
Dark Forces (April 21)
Lovely Cost (April 21)

Don't forget the digital popcorn:

June
11 - Newcastle, UK @ Cluny
12 - Nottingham, UK @ Maze
15 - Manchester, UK @ Night and Day
16 - Glasgow, UK @ King Tuts
17 - Birmingham, UK @ Glee Club
19 - London, UK @ Union Chapel

July
4 - Montreal, Quebec @ Club Soda
9 - Boston, Mass. @ Paradise
10 - Philadelphia, Pa. @ World Café Live
11 - New York, N.Y. @ Bowery Ballroom w/ the Lonely Astronauts
12 - Hoboken, N.J. @ Maxwell's
15 - Los Angeles, Calif. @ Troubadour
18 - San Francisco, Calif. @ Great American Music Hall
21 - Portland, Ore. @ Doug Fir
22 - Seattle, Wash. @ Triple Door
24 - Vancouver, British Colombia @ The Media Club
26 - Guelph, Ontario @ Hillside Festival

Related links:
JosephArthur.tumblr.com
MuseumofModernArthur.com
JosephArthur.com

Got news tips for Paste? E-mail news@pastemagazine.com.

Others Tagged With