Kelly decries Darko sequel, collaborates with Arcade Fire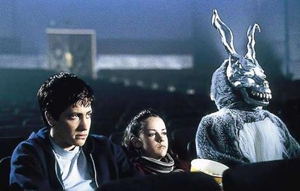 Director Richard Kelly will not, he repeats, will not be involved with the upcoming Donnie Darko sequel in any way, shape or form. Oh, and by the way, the Arcade Fire is scoring his new film The Box.
That's pretty much been the news swirling around the director in the blogosphere this week. It all began with film studio Velvet Octopus' announcement last week that a sequel to Kelly's cult favorite Donnie Darko would begin production May 18. S. Darko will take place seven years after Donnie's death, and will follow his sister Samantha and her best friend on a road trip to L.A., during which they experience bizarre visions.
Director Chris Fisher (Rampage: The Hillside Strangler Murders) will helm the film, and actress Daviegh Chase will be reprising her role as Samantha. The cast also includes Ed Westwick (Son of Rambow), Briana Evigan (Step Up 2) and Justin Chatwin (Dragon Ball). Fisher said that while Donnie would not be making an appearance, S. Darko would include meteorites and rabbits.
The studio chose Fisher this time around after Kelly declined any involvement in the project. And "declined" might be putting it modestly. Kelly has gone to great lengths to distance himself from S. Darko. First, a rep from his production company Darko Entertainment told /Film in an e-mail that "Richard, Sean [McKittrick] and every ounce of Darko Entertainment are 150% NOT INVOLVED" in the project.
And if that wasn't clear enough, Kelly himself contacted the site with the following statement: "To set the record straight, here's a few facts I'd like to share with you all – I haven't read this script. I have absolutely no involvement with this production, nor will I ever be involved. I have no control over the rights from our original film, and neither I nor my producing partner Sean McKittrick stand to make any money from this film."
Also in his correspondence with /Film, Kelly mentioned another piece of news concerning his upcoming film The Box, a thriller starring Cameron Diaz and James Marsden that is currently in the editing stage. The director said that he and McKittrick were working with a "very famous band" whose members were in the process of writing their first film score.
Kelly did not reveal the band's name, but Arcade Fire producer/engineer Markus Dravs seems to have inadvertently leaked the information on his website. Dravs wrote, ".... having finished Coldplay's forthcoming album Viva la Vida - now off to Canada to work with Arcade Fire on a Sound-track for the forth coming Richard Kelly film....." Oops.
Look for The Box to hit theaters later this year.
Related links:
DonnieDarko.com
IMDb: Donnie Darko
Feature: Catching Up With… Richard Kelly
Got news tips for Paste? E-mail news@pastemagazine.com.
Others Tagged With