Luke Wilson gets miraculous as Henry Poole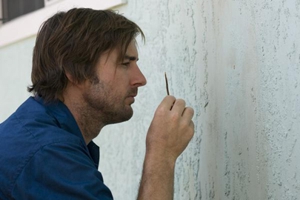 It's been a while since we heard from Luke Wilson. Lately, media attention has been (unfortunately) focused on his older brother, and Luke's behind-the-camera debut, The Wendell Baker Story, was a certified box-office flop.
Of course, none of this makes any of the three Wilson brothers (oldest Wilson bro Andrew co-directed Wendell Baker) less talented or watch-worthy. And Luke is poised to make a big-screen comeback with his latest movie, the miracle fable Henry Poole is Here.
The family-friendly film, co-starring (random alert!) Radha Mitchell, Cheryl Hines and George Lopez, centers on the morbidly depressed Henry Poole (Wilson), who moves into a ramshackle house in a nondescript suburb of L.A. to hermitize in a Leaving Las Vegas-alcoholic kinda way.
Then the face of the Lord appears in a water stain on Henry's stucco and everything changes. His super-Catholic neighbor Esperanza brings her preacher over as witness, followed by the inevitable busloads of miracle seekers.
Henry Poole was a sensation at Sundance, where Overture Films purchased the rights on a wing and a prayer—or the many prayers of the potentially huge morally upright audience for the PG-rated film. The movie hits theaters nationwide on Aug. 15; check out the movie poster at the MTV Movies blog and the trailer below:
Related links:
Henry Poole is Here on MySpace
Festivus : Sundance review of Henry Poole
Feature: Brothers in Arms—Luke, Andrew and Owen Wilson make a movie
Got news tips for Paste? E-mail news@pastemagazine.com.
Others Tagged With