Matt Damon pulls out from Bourne game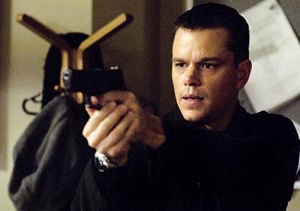 Given all the lousy movie-to-video game adaptations out there, it's always refreshing when an adaptation looks like its developer actually cares about a project. So when Sierra showed off The Bourne Conspiracy, and it looked like the game actually caught the spirit of the film franchise, it left only one question looming: where is Jason Bourne?
According to developer High Moon, Matt Damon turned down the role while still in negotiations to lend his voice and likeness to the game. Damon told the The Boston Globe, "I lobbied hard [with the video producers] to not make a first-person shooter game but to make it more like Myst, which was a great interesting puzzle you tried to solve - you know, to play with his amnesia or his memory. They weren't interested. They made the video anyway, without my likeness." Which would make sense if the game were an adaptation of Memento or Eternal Sunshine, but problems about violence in a Bourne game?
His involvement, implied in the quote, also doesn't seem entirely accurate. MTV's Multiplayer blog asked High Moon about this, which said that the journalist reporting the article guessed about the brackets and that Damon never actually spoke to them. To work around the issue, High Moon says, "We got the sense that his interest in games overall was marginal, and we decided to move away from celebrity involvement and take our Bourne into an original direction."
No Damon, then, and the rest of the Globe article makes it pretty clear that he'll be staying out of violent games. The situation seems to point out a strange double standard that sometimes exists between various mediums. In films, Damon has played a trained killer, a mob hitman and a sociopathic murderer. In games, he curiously seems to want to wander through a foggy meadow.
Related links:
Review: The Bourne Ultimatum
News: Paul Greengrass and Matt Damon are Bourne Again
IMDb: Matt Damon
Got news tips for Paste? E-mail news@pastemagazine.com.
Others Tagged With