Sam Phillips: Don't Do Anything
[Nonesuch]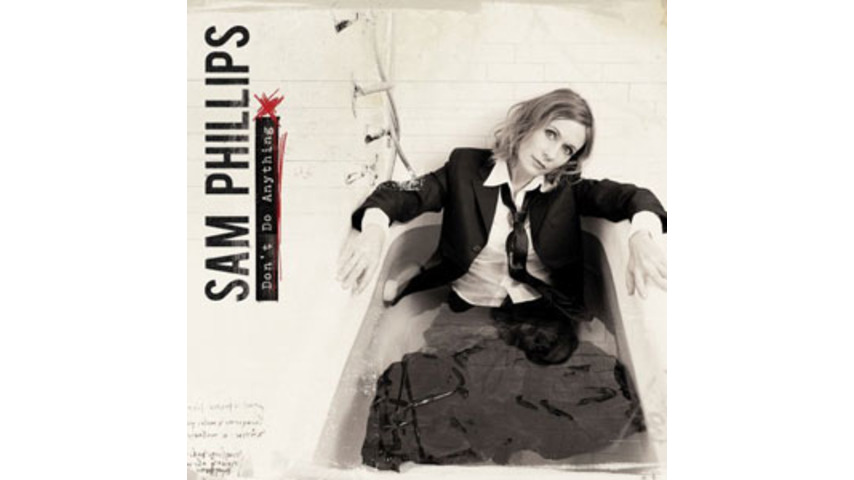 Phillips' first record without T Bone a success
Sam Phillips is a brand fans rely on. Not to sully her work with the grimy language of commerce, but her stellar track record merits kudos. Few career artists of such high standards have fared as well. When David Bowie or Elvis Costello roll out an album, it often feels like the launch of a popular software upgrade; they struggle so hard to reinvent the wheel, you can hear the sweat beading on their brows. But after the hoopla subsides, the flaws get all the attention.
Phillips doesn't avoid change. She began life as contemporary-Christian recording artist Leslie Phillips. In the late '80s, a change of heart—and nomenclature—led to a deal with Virgin and four inventive discs that saw her through the next decade. A hiatus to focus on family ended with 2001's Fan Dance, which also unveiled a more pared-down sound. But, like fellow L.A. veterans Tom Waits and Eleni Mandell, when Phillips charts a new course, she rarely loses direction; even her one misfire—1996's overproduced, underwritten Omnipop—had merit.
Her latest, Don't Do Anything, rivals the best of her catalog. But while, musically, these 12 originals slot in neatly alongside the intimate grooves of Fan Dance and 2004's A Boot And A Shoe, they introduce an important new wrinkle. For the first time since 1987, Phillips went with a producer other than her longtime creative foil (and now ex-husband) T Bone Burnett: Herself.
The difference is subtle yet clearly discernable. This is Sam Phillips unvarnished. Underscoring this shift, opener "No Explanations" kicks off with just her papery voice and low, distorted guitar tones; having circumnavigated the realms of indie rock since her beginnings, hearing such a lo-fidelity incarnation of the artist initially startles. But the approach quickly gels.
On her early records with Burnett, Phillips' music vibrated with color. The searing pinks and electric blues of her album jackets complemented the songs inside, which sometimes swirled like psychedelic poster prints: The Indian-restaurant disco of "I Can't Please You" (from Martinis And Bikinis); the paisley pop of her should-have-been-a-hit single "I Don't Know How To Say Goodbye To You" (from The Indescribable Wow). With the switch to Nonesuch in 2001, her world took on burnished hues of copper and honey, replacing baroque flourishes with quieter, acoustic timbres.
Now she progresses further still, concentrating on texture. Mixed so instruments are often heard at curious, uneven levels, Don't Do Anything sounds humble, homemade. Instead of meticulous chamber pieces, these selections are arranged like shoebox dioramas. It's about tiny details: The metallic buzzing of strings; percussion generated on what sounds like cardboard boxes full of blankets, or mason-jar maracas. "Another Song" opens with a static-riddled melody from a music box or lost toy; the coda of "Under The Night" dissolves into crackling guitar noise. These touches are as vital to the fabric of the album as its songs and their singer.
Phillips wraps probing lyrics in beguiling melodies. Spiritual themes recur throughout Don't Do Anything ("Can't Come Down" was inspired by the life of a popular L.A. preacher from the 1930s, and on "Signal" she looks for a sign "Between heart and skin / Through the shoulders where the wings might have been"), but her questioning transcends any specific denomination. On the title cut, she reiterates that her admirations for her beloved run deepest "When you don't know, when you don't try / When you don't say anything."
Nowhere are her quiet powers of persuasion more evident than on "Sister Rosetta Goes Before Us." Burnett already recorded this number, on the Robert Plant/Allison Krauss collaboration he produced, Raising Sand. Contrasted with that mellifluous reading, Phillips' version feels like a ceremonial dance 'round a bonfire, the tempo pushing forward oh-so-gradually as strings weave in and out. If she ever decides to ditch her musical career, the singer could probably enjoy success as a charismatic cult leader.
Phillips has proven herself capable of appealing to mass audiences, via her long affiliation with The Gilmore Girls. Heck, she had a song on one of the best-selling albums of 2007. But mainstream popularity has never been her aim. "I'd rather make art than make my dreams come true," she quoted in the album's promotional materials. On Don't Do Anything, she succeeds beautifully by doing nothing more than being the best possible version of herself.
Others Tagged With