Sam Raimi's Evil Dead becomes hit Broadway musical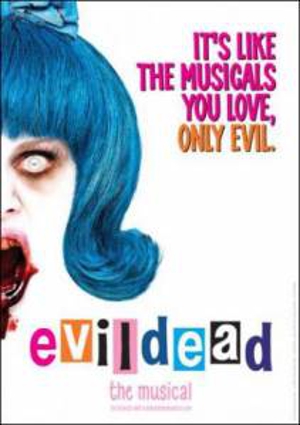 We are currently in an age where books are adapted into movies, movies are turned into TV series, TV series morph into Broadway plays, and plays turn into running online commentaries authored by the actors. You just never know whether you'll see your favorite comic strip turn into a blockbuster or a Saturday morning cartoon first; it's a slow, gradual transformation from one medium to the next. Kind of like the Animorphs. But you know you've struck gold when your favorite b-list movie becomes a musical.

Such is the case with Sam Raimi's Evil Dead. The '80s flick (rated NC-17 in the U.S. and banned in Malaysia, the UK, Ireland, Iceland and others) has gone spoofed musical, complete with an audience "splash section."

The story focuses on a group of five people who head out to a cabin in the woods, blissfully unaware of the tidbit that the woods they're heading to is, in fact, alive. And demonic. The trees can wrap their limbs around your ankles to hang you; invisible creatures chase you should you go out for a quick bathroom break; flesh-eating demons possess you, and, well, eat your flesh. There's a chainsaw and an eerie spoken-word tape that urges "bodily dismemberment" as the only respite for the possessed. Alas, we digress, but you can already tell how good it would be choreographed and set to bouncy, jangly showtunes.

The irony goes further than that, though, like it should in any good, well-rounded spoof. In order to advertise Evil Dead: The Musical in Toronto, where it's currently stationed, there are a series of Broadway-esque posters styled after the popular Mamma Mia!, Les Miserables and Hairspray. With one main difference: in lieu of the character who would normally be on the poster, there is now a possessed zombie, covered in fake blood.

They are certain to get your attention as you walk down the street. And if you're still not sold on singing, dancing tree-folk oozing red syrup, the reviews are pretty good, too. But if you sit in the splash section, be sure to bring a pancho.

Related links:
The Evil Dead on IMDb
News: Bruce Lee musical slated for Broadway
News: John Mellencamp and Stephen King to unleash musical

Got news tips for Paste? E-mail news@pastemagazine.com.