Fleet Foxes
The Ancient Sounds of Tomorrow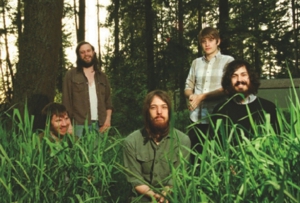 "I don't think of us as a rock band, really" Robin Pecknold, the bearded 22-year old frontman of Seattle's Fleet Foxes says over a Saturday morning cup of coffee. "If anything, we're pop." Still, this is not the candy-coated dance-pop of Hot Chip or even the Kinks-y pop-rock of Fleet Foxes' Sub Pop labelmates The Shins. Rather, it's a kind of Old English pop, full of three-part harmonies and breezy melodies sung and strummed far away from anything resembling a backbeat. At times the Foxes recall the more Madrigal moments of The Zombies, or Crosby, Stills, Nash & Young (without so much of the Stephen Stills). It's music that would be right at home in a particularly clean patch of old Appalachia, or in a Wes Anderson film.
"I'm not all super Anglophile or anything," Pecknold says, brushing his long hair out of his face, "but there is something really rad about those sounds." The scruffy Pecknold is disarmingly earnest in person—there's not a whiff of the jaded hipster about him—and it's a quality that carries over into his band's music. "Having everybody sing together reminds me of being in school plays as a kid," he says. "Or, you know, like being around family."
With the help of producer Phil Ek (Built to Spill, The Shins), Pecknold and his bandmates have channeled that familial spirit and those Anglo-pop sounds on their forthcoming full-length debut Fleet Foxes, as well as on the five-song EP Sun Giant. Back home after two months touring the U.S., Pecknold and his bandmates played a triumphant late-April homecoming show before heading off on their first European tour. As the five-piece gathered on stage, a freak storm dumped snow all over the streets. The mix of seasons outside—just like the mix of sounds in Fleet Foxes' music—was unexpected, and weirdly comforting.
Others Tagged With