Hollywood signs on for Warren Ellis' Red and Ocean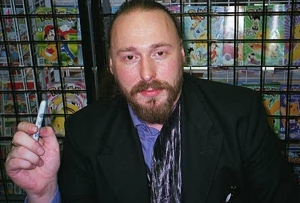 Warren Ellis is a weird dude. Upon reading his blog, one could momentarily lose themselves and wonder if the words are those of the famed Kurt Vonnegut personality Kilgore Trout. Ellis puts forth fantastical science fiction that is regarded somewhere between brilliance and lunacy, depending on your perspective, historical context and general sentiment toward opium dens on Mars.
Regardless, Ellis has been a comic book and graphic novel juggernaut since he first signed on writing with Marvel in 1994. But even after years of work and the graphic-novel-to-film-adaptation explosion, Hollywood wasn't knocking down Ellis' door. Until now, that is.

And apparently when it rains, it pours. In recent it has been announced that not one, but two of Ellis' works will be adapted for the big screen. First up was 2004's six-issue comic-book miniseries Ocean, an epic about an evil being who discovers a sleeping alien race and their weapons of mass destruction beneath a layer of ice on one of Jupiter's moons and seeks to use it for his own devices. Warner Brothers has hired Hollywood newcomer Ryan Condal to adapt the screenplay.

The other, 2003's three-issue miniseries Red, is being rewritten by comic adaptation veterans Erich and Jon Hoeber (Whiteout and Alice). Summit Entertainment has hired Transformers producer Lorenzo di Bonaventura for the film.

The plot revolves around a retired CIA agent living quietly alone until he's thrust back into this world when a technologically-advanced assassin shows up to kill him. The Hollywood Reporter says the adaptation will focus on the agents difficulty adjusting to the changes and advances in his profession as he struggles to change his stubborn old ways and mindset.

Sounds like Cormac McCarthy and the Coen Brothers might have picked up the latter series at some point, huh?

Related links:
WarrenEllis.com
FreakAngels.com
Ultrazine: Warren Ellis: A 5 Questions Interview

Got a news tip for Paste? E-mail news@pastemagazine.com.

Others Tagged With