Mike Watt, Lee Ranaldo, more set James Joyce to music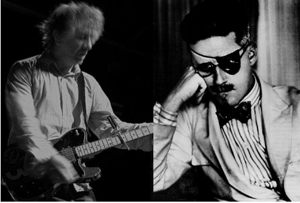 [Above: Lee Ronaldo and James Joyce]

We keep our ears pretty low to the ground where literate music is concerned, so news of producer James Nichols' project using James Joyce's poetry sent our wee minds a-reeling. The author of Ulysses, A Portrait of the Artist as a Young Man and Finnegan's Wake has inspired popular music for years—Jefferson Airplane, Lou Reed and Van Morrison are only three of the most famous Joyce-referencers—but rarely has he received such extensive treatment this side of the high art/low art seesaw.

The idea was simple enough: take all 36 stanzas from Joyce's 1907 collection Chamber Music, find musicians inspired or influenced by the author ("however loosely" quips the label site) and set the words to music of a variety of genres, including folk, electronica and indie rock. A boon to popular music fans of today, to be sure, though Joyce himself had once hoped, in a letter to his brother, that someone would set the poems to the "old English music such as I like."

Sorry, mate. This album packs heat somewhat different than madrigal choirs—no Fleet Foxes, even. Held within are Mike Watt (of the Minutemen), Ed Harcourt, Minus 5, Willy Mason, Mercury Rev and Text of Light (with Lee Ronaldo of Sonic Youth), to name only one-sixth of the yield.

From its initial inception, when Billboard told Nichols that "this will either be a landmark album or a pretentious failure," the project has come a long way. It was released June 21 on Fire Records.


Others Tagged With