Jon Cryer, William H. Macy salute Rodriguez's Shorts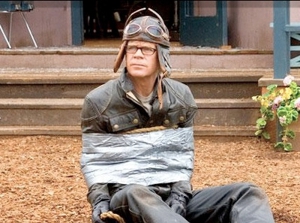 One of these days William H. Macy is finally going to star in the role he was born to play: Ned Flanders in a live-action version of The Simpsons. Until then, we're going to have to exercise patience before the Mamet-acolyte-turned-Hollywood-star sees the light.

Macy and Jon Cryer have joined the cast of Robert Rodriguez's family-comedy-adventure Shorts, slated for release sometime in 2009. Rodriguez will be directing based on his own screenplay, and producing along with Elizabeth Avellen under their Troublemaker Studios banner. The film will begin production shortly in Austin, Texas.

Warner Brothers announced the cast last Thursday, which will include Devon Gearhart, Leo Howard, Rebel Rodriguez, Jimmy Bennet, Jolie Vanier, Kat Dennings, James Spader, Jonathan Breck, Trevor Gagnon and the appropriately-named Jake Short.

Shorts takes place in everyone's favorite metaphor-laden inhabitance: an American suburb. And (social commentary ahoy!) all the houses are identical and everyone works for the same gadget manufacturer: the monolithic Black Box. All hell breaks loose when an 11-year-old boy is hit in the head with a rainbow-colored rock that grants wishes, and adults and kids scramble to get their paws on the MacGuffin. Remember that part of Kazaam where the bad guy steals Shaquille O'Neal and starts getting his wishes granted? Hopefully it'll be kinda like that.

Related links:
Shorts on IMDb
Review: Grindhouse
YouTube: William H. Macy plays the ukulele for Tim Allen, Martin Lawrence and John Travolta on Oprah (!!!)

Got news tips for Paste? E-mail news@pastemagazine.com.

Others Tagged With