Dan Deacon to headline Corndogorama's meaty line-up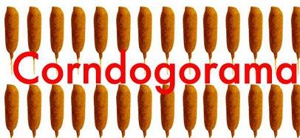 With its built-in wooden stick for convenient one-handed transport, and soft, delicious casing that prevents the traumatic puncture wounds often inflicted by skewered meats or vegetables, the corn dog (its origins as debated as those of man himself) was obviously conceived supernaturally for the purpose of consumption amidst throngs of schoolchildren, circus-goers and, finally, Atlanta indie rockers.
Yes, it seems the line-up is finalized for Atlanta's annual Corndogorama, subtitled "2008: The Year of the Mustard King." Beginning this Thursday, June 26, the meat-packed event lasts through Sunday, June 29, and covers four stages, two of which will be outdoors in the city's Cabbagetown neighborhood, which made national news after suffering major tornado damage earlier this year.
You'll have to check out the appropriately ketchup-and-mustard colored website for the full schedule, as it is more ample and fulfilling than a mountain of tubesteaks. Among the noteworthy acts, though, are Dan Deacon, Snowden, Gringo Star, Magnapop, Anna Kramer, Zoroaster and the always boisterous (and, full disclosure, Paste-connected) Attractive Eighties Women. The final night closes out with "Surprise Special Guests," which is either literal or a terrible name for a ska band.
P
lus, there's a whole slew of beer and batter-soaked recreations to keep one properly refreshed and maybe a little ashamed, including an eating competition, tricycle race, "Heavy Metal Petting Zoo," 40-yard flip-flop race, Mystery Touching Booth and a "beach in the city" courtesy of a water slide.
Don't settle for that store-bought freezer mess eaten with leftover ketchup packets from Wendy's. If you're in the region, get involved with Corndogorama, and satisfy your palate as you listen to some great local music.
Related links:
Corndogorama.com
Corndogorama on MySpace
Flickr: Corndogorama

Got news tips for Paste? E-mail news@pastemagazine.com.
Others Tagged With