Metallica names new album, gets in another Internet fight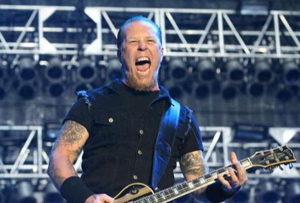 Although we've never done it before, we assume naming a mainstream hard-rock/metal album is a somewhat daunting task. It needs to sound terrifying, yet accessible. It should include some variation on "death." It must be original, as references to the underworld/anger/murder can start to blend together after a while. And most importantly, it needs to be easily read in a ferocious snarl.

Which leads us to the name of Metallica's newest album, Death Magnetic. The name was announced on the group's website over the weekend and satisfies all the above requirements. Well done, dudes.

The announcement comes on the heels of yet another Metallica vs. the Internet controversy. After a select few British journalists were invited to preview six rough tracks off Death Magnetic, they were promptly asked to remove the reviews from their various blogs by Metallica's management.

In a rather convoluted and confusing twist, the band claimed to know nothing about the request for the blog reviews to be removed. They were then reposted and linked to the Metallica site.

Huh? This was all much easier when we could just assume Metallica hated the Internet. Live and learn, apparently.

Death Magnetic is set for release in September. Start practicing that snarl now.

Related links:
Metallica on MySpace
Encyclopedia Metallica
News: Another Swedish baby named Metallica

Got news tips for Paste? E-mail news@pastemagazine.com.
Others Tagged With