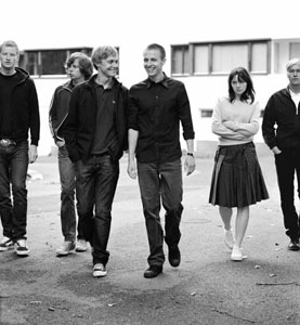 Release Date: May 16 (limited)
Director: Joachim Trier
Writers: Joachim Trier and Eskil Vogt
Cinematographer: Jakob Ihre
Starring: Anders Danielsen Lie, Espen Klouman-Hoiner, Viktoria Winge
Studio/Run Time: Miramax Films, 105 mins.
Alternate endings in the cinema are nothing new. But Norwegian film Reprise takes the unique approach of alternate beginnings. Its fresh opening combined with the satisfying resolution in the final 20 minutes help to compensate for a fizzling mid-section.
Phillip (Anders Danielsen Lie) and Erik (Espen Klouman-Hoiner) are two aspiring novelists who agree to mail their manuscripts at the same time. As they stand at the mailbox, anxious with expectations, we see their lives played out in a variety of imaginary news reports. Reality returns, however, and we fast forward to Phillip, whose book is obviously a great success though he is leaving a hospital after some sort of mental breakdown.
Here is where things begin to sputter with vague and sometimes-uncomfortable interactions between Phillip, Erik, friends and lovers, with a mix of flashbacks and flash-forwards. Phillip's attempt to reenact a day in Paris with his estranged girlfriend, for example, is boringly painful to watch. (If you've seen comedian Eddie Izzard's take on foreign films in Dress To Kill, you'll understand: "What is it, Sebastian? I'm arranging matches.") But Reprise does return to the awkward competition and enduring friendship of Phillip and Erik. True to its name, the film circles back to its opening theme, rescuing itself from the clutches of lackluster.
Watch the trailer for Reprise:
Others Tagged With