Trey Anastasio hoping to reunite Phish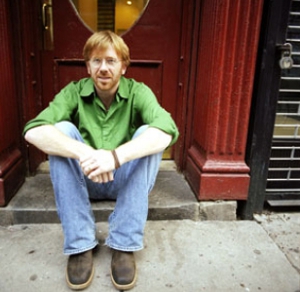 There must be something in the bottled water that tour buses keep on board. It seems that Reunion Fever, already rampant, has claimed another victim in Phish's lead singer and guitarist, Trey Anastasio.

In an interview with PopMatters, Phish cohort Tom Marshall spilled some rumor beans, telling the site that "Trey wants Phish to come back." The two songwriters, now in their forties, started collaborating while attending Princeton Day School in New Jersey and have recently re-continued their mutual endeavor, Marshall reported.

The past few years have played Anastasio hot and cold. Since Phish's rather emotional breakup in August 2004, the former Phisherman has released albums with various groups, including 70 Volt Parade (which became the Trey Anastasio Band) and the Benevento/Russo Duo. But in December of 2006, a NY policeman stopped Anastasio for driving erratically, busting the guitarist for possession of Xanax, Percocet and Hydrocodene, amongst other illegally obtained prescription drugs.

According to Marshall, it all came out in the wash. With his sentence recently reduced, Anastasio is scheduled for his first major concert since the arrest and is giddy as his old schoolboy self about deputizing all the king's horses to put Phish back together again. The process is, apparently, an emotional one: full of nostalgia ("It's almost like we're in 8th grade again"), paternal love ("I think Phish is his baby"), and that special something ("[we] have a new energy, a new spark"). Run like an antelope, Phish, and we'll be waiting for you.

Related links:
TreyAnastasio.com
Phish.com
Review: Phish live

Got news tips for Paste? E-mail news@pastemagazine.com.
Others Tagged With