Update: Arrested Development movie plans progressing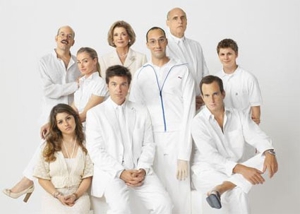 Update:
Jason Bateman
dished
yesterday on the status of the nearly-confirmed
Arrested Development
movie, bringing equal parts hope and despair:
"We all want to do it. All the actors want to do it, the writers want to do it, and the boss wants to do it. And they are working on making a deal, probably as we speak. But it's a long, sort of drawn-out, complicated business process. 'Arrested Development' is such a specific tone, it doesn't lend itself to mass appeal, as played out by the fact that it's canceled. So it has to be done for a price [...] So they have to shoot it for a small price, and we have to figure out if we can do it for that price. They're working it out, and hopefully we'll be able to know something in the next month."
Keep those balls in the air. Keep those balls in the air.

--

Now the story of an amazing television show that got canceled, and the rabid fans who had no choice but to keep it all together. It's
Arrested Development
.
Rejoice, ye faithful, for the moment of prophecy draws nigh. As pointed out by Pop Candy, on a recent episode of MSNBC's Countdown with Keith Olbermann, Arrested Development alum Jason Bateman sat down to discuss his role in the upcoming Summer action flick Hancock. After a quick back and forth about an article from the Times of London that said "Hancock could make Bateman a star at last" (lo, th' injustice of it all), who should appear but a grizzled-looking David Cross, lint roller in hand?

Talk inevitably turned to the four billion or so rumors circulating about an Arrested Development movie, heresay buoyed by Jeffrey Tambor's appearance on CBS last week where he dropped a hint that it might be progressing. Bateman stopped just short of all but confirming the movie, smirking that "...it's in the works, the grownups are trying to work out the numbers." Oh, COME ON!!

It's not the first time that Olbermann, political gadfly and pop-culture maven that he is, has championed the show, even going so far as to issue a mock "special comment" begging Hollywood to make the movie devotees have been salivating for. ANYWAY, for your viewing pleasure, messrs. Olbermann, Bateman and Cross:



After this, you probably need to calm down a little bit from gripping the edge of your desk. So, grab a frozen banana, pop in Franklin Comes Alive and dream a little dream about how awesome this movie will be. Taste the happy. Taste it!

Related links:
News: Arrested Development... the movie?
High Gravity: Best Sitcoms Since 1980
BluthFamily.com

Got a news tip for Paste? E-mail news@pastemagazine.com.

Others Tagged With