300 sequel and/or prequel in the works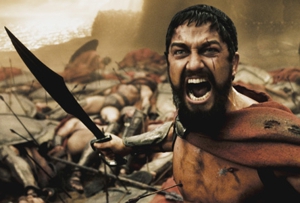 It's a simple recipe for Hollywood producers. Start with semi-to-well-known characters, (preferably from a comic book), stir in a generous portion of bloody action scenes, season with betrayal, add a love story to taste, and BAM! You've got yourself a Hollywood blockbuster.

Want a sequel? Easy enough. But what if all the main characters were mercilessly killed off in the first go-around? Such is the case with the recently confirmed follow-up to fanboy fave 300.

According to Legendary Pictures, Frank Miller, writer and illustrator of the original comic book series, is already tapped to write another book that the movie will be based on. Whether the follow-up will take place in a pre- or post-Leonidas world has yet to be determined.

Zack Snyder is also assumed to be on board for the sequel, though he won't officially commit until he sees Miller's new story.

Just where the next movie falls in Greek history is anyone's guess, but we're assuming the original recipe will remain intact. And that fans will be back for a second helping.

Related Links:
"Inside 300" on How Stuff Works
"300 as Facist Art"
Feature: Frank Miller - Dark Horse on the Horizon

Got news tips for Paste? E-mail news@pastemagazine.com.

Others Tagged With