An Online Treehouse For Literary Monkeys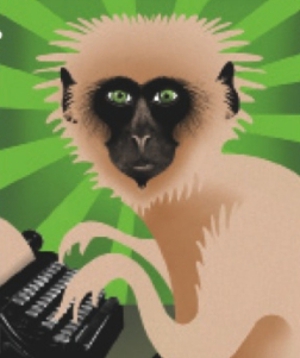 If you set up a million monkeys with a bunch of laptops, would they eventually produce Shakespeare?
Maybe not, but you might get new website One Million Monkeys Typing (1000000monkeys.com), a collaborative, evolutionary storytelling site. It's like "Choose Your Own Adventure" for the 21st century: Users (lovingly dubbed "monkeys") graft "snippets" of their own writing onto stories crafted by other monkeys. Snippets range in length from 50 to 300 words (sometimes in haiku or limerick), and each can sprout up to three branches. Stories are labeled in a tree-based vernacular, from seedlings to sawtimbers, and genres have included Westerns, pulp, sci-fi and many more.
Ilya Kreymerman and Nina Zito (respectively, a web developer and web designer—and monkeys #1 and #2) were leisurely discussing the integrity of the written word when they hatched the idea to let people write new endings to famous stories. From there the concept spun into writing entire stories collaboratively, with user-defined story arcs and no guarantees for the conclusion. "We imagined a never-ending, ever-improving text with strong branches reflecting the likes of the niche community that had shaped it—exactly the opposite of the 'absolute' nature of print," Zito says.
Progress toward the eponymous goal of one million monkeys is tracked on the site; as of today, there are over 600 monkeys. For now, despite the site's growth, Zito and Kreymerman are seeing little financial return ("the banner ads yielded roughly $13 last year"), but that doesn't matter much to them. "It's a labor of love," Zito says. "For now, we are very happy just to watch it grow and flourish."
Others Tagged With