Catching Up With... Mark Olson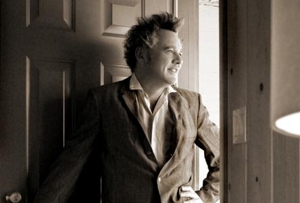 Mark Olson and Gary Louris
recently announced
that they're getting back together and making an album.
Paste
editor-in-chief Josh Jackson spoke with the pair about the news last week. Here is his full conversation with Olson:
Paste
: You're in Norway right now? Is that right?
Mark Olson: Yeah, in Norway.
Paste: What are you doing over there? Just touring?
Olson: Well, I had a record come out and in my band is a Norwegian and an Italian, and we've done 200 shows over the last year and we're touring here all summer. There's a lot happening, you know, all over Europe in the summer. There's just a lot of things going on, music-wise.
Paste: Europe's always been good to you.
Olson: Yeah, I had a German record company for a while, for four albums. I just kept coming over here and playing, that's what I did all these years. Now, Gary and I hooked up over here this summer and we have the new album coming out. We're gonna play a few shows in America, but we're gonna come back here in November and December and do a proper tour.
Paste: Do you know whereabouts and when you're playing together in the States?
Olson: Yes, we're playing in San Francisco, I believe it's Oct. 5, we're playing at a festival there and then we're playing in Lexington and Louisville—no, we're playing in Louisville and Nashville like the 20, 21 of September, and that's what I know so far. They're just kind of like festivals or promo things. To start with, and then we're gonna do a proper tour in January/February in America.
Paste: Well, I'm excited about the new album.
Olson: I am too! I just copied the lyrics down yesterday and it sounds really, really nice. I can't tell who's singing what parts on some of it. I was listening to it. I don't normally listen to it through little earphones, but I was doing that and I was just going, "Well, who's doing that?"
Paste: [laughs] Well, that's one of the great things about you two together. Now how did all of this come about?
Olson: How it really came about was we did two tours in America, one just the two of us, and one with a small band. We did the East coast and the West coast, and at the end of those we said, "This is a lot of fun, let's do it again, but before we do it again, let's have a new record, you know, let's do something." So, I just called him up and he had some time in Minnesota so I went there and we basically wrote the songs in his garage. He just had an open garage. Then we'd work and then take off for the evening and each of us would work on respective parts, lyrics, etc., and then reconvene the next day. And we did that for about four days. Then we grabbed some old songs that we really liked and had never recorded, and we felt like we had an album. The next step was finding somewhere to record and, you know, Chris [Robinson] had always treated us well. We did a lot of tours with those guys, and he was always kind of funny and interesting and he knew a lot about old-time rock 'n' roll and blues and country and soul, and he's kind of an encyclopedia about that stuff. So we said, "Hey let's just do it with Chris, and we'll go in there and see what happens."

It went really well. We kind of did it like old recording style with no headphones—just singing together in the same room, and I think that that really came through. We'd never done that before, you know, we'd always overdub the vocals and sang with headphones. This time we just sang together live, all the vocals are live, and it was really nice.
Paste: What was it like collaborating with Gary again?
Olson: It was really good! I mean, we both had kind of discovered finger picking and we just kind of fell into those parts and we knew how to write songs together, so it was just really good, you know. I'd been working with a little more loose organization, and with Gary he's very focused. When I work with him, we get the start, and then it's kind of—we're going for the finish line. We'll see how that goes, you know. We'll try to get to the finish line with writing a song, and that can take three, four days sometimes.
Paste: How long a process was this?
Olson: We did about four or five days there in Minnesota, reconvened for rehearsals in California for two or three days, some of the songs were older, and we used little parts here and little parts there, because, you know, we'd written a lot of songs in our lives. And so I would say, all told, a lifetime in five days. A lifetime plus five days, squared.
Paste: [laughs] You guys have obviously been through a lot together. Does that make it any easier working with each other now?
Olson
: Well, I don't know. To me it brings more along the lines of
let's make it count
. You know, it's special. You know, let's do it. You know, that kind of a thing. I don't really have
that
much time left to be complaining about things not working or weird things, you know. It's just, there's a path now up ahead. We have to go out and play these songs, and hopefully good things will happen. Hopefully people will come out and hear 'em and want to buy our record, you know? We'll see. That's more what I'm focused on. I don't really think about the various things that were that don't seem that important anymore, is kind of the way I look at it.
Paste: And how has the the content of the songs changed over the years do you think?
Olson: For our songs the content has gotten more musical. There's definite improvement, musical improvement, and there's definite improvement, lyrical improvement, with Gary and I. Listen to the old songs and listen to these as far as the lyrics and the melodies, these are more concrete ideas about what the songs are saying, better words working together, better singing parts. It's just more complex, but still, it sounds simple, but it still works, you know. And it's challenging too. There are songs that are even more of a challenge. When you get rid of the drums and bass sometimes you really gotta come up with something. It's half acoustic, half with a band.
Others Tagged With