Charlie Kaufman's Synecdoche, NY in talks with Sony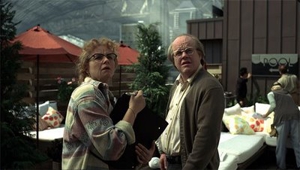 More than two months after the 2008 Cannes Film Festival came to a close and Charlie Kaufman's Synecdoche, NY startled festival-goers out of their overstimulated movie-going apathy, the word is that the film will finally be picked up for distribution.
At a festival that is a market in equal measure, where deals are said to be sketched out on napkins in hotel bars on the beach, that one of the festival's most intense and consuming films made a quiet exit to mixed reviews and no distribution deal was unsettling, if not unexpected. Would we ever see it again?

Thankfully, Synecdoche is said to be in advanced stages of negotiations with Sony Pictures Classics, which also picked up Waltz with Bashir (now with a Dec. 26 release date), another 2008 Official Competition screener. Kimmel International representatives say that an announcement on its U.S. release and distribution will be made "very soon." The film's release is reported to land sometime in late 2008.

Synecdoche was written and directed by Kaufman, whose writing credits include Adaptation, Being John Malkovich, and Eternal Sunshine of the Spotless Mind.

Basically, we can't wait to see this film, and hopefully in its 124-minute entirety. Rumors also mention that Kaufman is considering cutting the film even further (and this considering an original version reputedly running over four hours long).

Related links:
News: Cannes announces 2008 lineup
Cover Story: Philip Seymour Hoffman: The Mad Detective
Festival-Cannes.fr

Got a news tip for Paste? E-mail news@pastemagazine.com.

Others Tagged With