David Hasselhoff social networking site finally arrives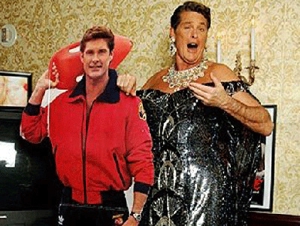 We know what you're thinking...

"Geez, it sure was cool when Radiohead started its own social networking site. Getting together with other people to talk about people you love is awesome! And you know who else deserves that level of obsession? David Hasselhoff." Well, Hoffanatics, the wait is over. The Hofftron has heard your wishes and, magnanimously, he has answered them.
A segment of Hasselhoff.com has become what the Baywatch alum calls HoffSpace (seriously), complete with individual user profiles, message boards and things like official competitions for videos from fans. (We're readying our submission right now for "Jump In My Car.")

The Hoff also invites fans to add his banner to their MySpace pages (you know, that other social networking thing) and to "Hoff Around The World," or send in pictures of themselves in front of landmarks in their own countries with a sign displaying the slogan in the hopes of being chosen as the best and receiving a "personalized Hoff Bag!"

If you'd like to see DH on your television set rather than via the interwebs, we recommend tuning in to season three of America's Got Talent where you may view his judging prowess alongside the likes of Jerry Springer and Sharon Osborne. Otherwise, it's to the HoffSpace with you, or to the record store, where you can buy one of his many albums. However you get your fix, just remember: Don't Hassel the Hoff.

Thanks to Vulture for the tip!

Related links:
DavidHasselhoff.com (HoffSpace)
Hasselhoff.com
The Official David Hasselhoff Blog

Got news tips for Paste? E-mail news@pastemagazine.com.
Others Tagged With