Dr. Horrible's Sing-Along Blog gets a trailer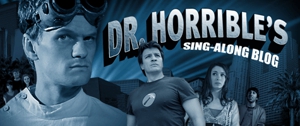 Remember when we reported that Joss Whedon and Neil Patrick Harris were working on a musical and it sounded like nonsense we'd made up? Well, that part where it sounds like the fevered dreams of the Internet, that still hasn't changed. In fact, the more we hear about the whole thing the sillier it sounds, but definitely silly in a good way.

It looks like so far things have moved forward quickly on the project. In order to simultaneously gain some notice for
Dr. Horrible's Sing-Along Blog
(seriously! that's what they're calling it!) and dispel rumors that he was just making the whole thing up in order to goad gullible reporters along, Whedon released a teaser trailer for the, uhh, TV Show? Internet Show? Blog series? Whatever:
Still no news on when exactly this will be available, but from the looks of the trailer everything is filmed and on its way towards finishing. Participants in the...thing...will be participating in a panel at San Diego Comic-Con, so if you're in the area, be sure to check it out. And maybe send a note to the e-mail address below afterwards? Thanks.

Update: According to DrHorrible.com, the three acts will be available July 15, 17 and 19 before being taken down and sold online and later released as a DVD. Why buy the DVD when you can see it online for free? Whedon promises the first ever singing commentary track. Thanks to Gina for the heads-up.

Related links:
News: Joss Whedon back on the air with Dollhouse
High Gravity: Reason #287 Why I Should Go to Comic-Con
Features: Buffy the Vampire Slayer Classic Storytelling
Got news tips for Paste? E-mail news@pastemagazine.com.
Others Tagged With