Girl Talk's Feed the Animals gets 14-video treatment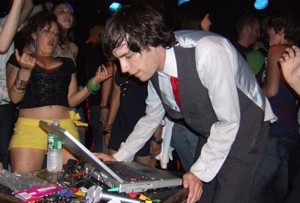 Ever since 2006's Night Ripper thrust Greg Gillis and his musical project Girl Talk into the national limelight, he has been one of the most polarizing figures in popular music. Many feel Gillis is cheating the system, stacking the musical tape deck if you will. Sort of like how the Yankees can afford Rodriguez and Jeter in the infield (not that Young Berg and Tony Basil are exactly Jeter and A-Rod, but you get the idea), it just doesn't quite seem right.
But when you hear the music in natural setting, once you get beyond all that silly copyright infringement talk, you don't worry so much about this anymore. Maybe Sinead O'Connor wouldn't imagine her vocals all chipmunked out and transitioning into Shawna's "Gettin' Some," but it seems pretty obvious that this was not her doing when you listen to the end of "Play Your Part (Pt. I.)." It's not like Sinead and Shawna are trading verses, after all.
However, not yet in the Girl Talk era has something happened that forces us to visually imagine a plausible collaboration between Thom Yorke and Blackstreet. Ironically, this visualization comes from an unlicensed mash-up of Gillis' songs and performance videos of the artists he draw from.
The videos, according to the
YouTube profile
they link to, are crafted by a 20-year-old Missouri resident named Chris Beckham. There is no direct explanation of the project, but he said he plans to do a video for all 14 songs (he's finished three thus far) from Girl Talk's
Feed The Animals
. His profile warns: "Please do not sue me for copyright infringement, I'm just recycling culture," before adding, "art is too important to be only used once." These videos are not some haphazard cut and paste jobs, either. They're meticulously transitioned using
Final Cut Pro
(Beckham said in the comments section his most recent video took six or seven hours) and nearly seamless. See for yourself below. We'll add each new track (with commentary) as Beckham finishes them:
Got news tips for Paste? E-mail news@pastemagazine.com.
Others Tagged With