Google announces Lively new virtual world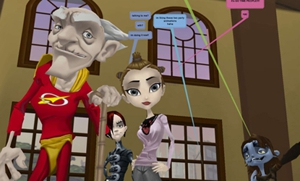 [Above: A Lively screenshot]

Fresh out of its ginormous sleeves, Google has launched what appears to be a combination of GTalk, Second Life and Bratz. The virtual world, Lively, allows users to generate their own avatars and worlds to mingle with others online. Instant messaging someone next to you just got...weirder.

TechCrunch reports
that the GTalk-based feature can be embedded in your own site, but only the eyes of Windows and IE users can view them for now. Like Nintendo's digital Miis, you don't have to be human, but it seems that if you're female, you're pretty much bound to looking sassy. Unlike
Second Life
, there's no main world to interact in. Yet, at least.
We're also a bit wary of the new project, as Google has a hoax history that includes
Gmail's Custom Time
and
starting a colony on Mars
. But with April Fool's long gone, we have to wonder what else Google has got up its garments. We suggest bringing back
virtual headgear
, or a
virtual keyboard
.
See a clip of the new feature below:
Related links:
Lively.com
SecondLife.com
Got news tips for Paste? E-mail news@pastemagazine.com.