James Brown's belongings auctioned off at Christie's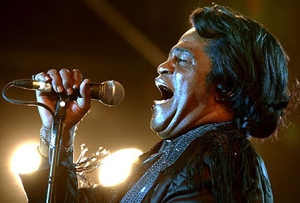 The music world lost a great legend in 2006 when the Godfather of Soul, James Brown, passed away. But thankfully, his legacy lives on, not only through his music, but his colorful collection of custom-made jumpsuits.
On July 18, Christie's auctioned off 329 lots of James Brown memorabilia, from the aforementioned jumpsuits (many emblazoned with the word "SEX"), to red leather furniture to various musical instruments. The grand total of the soulful stash post-auction? $857,688.

Inexplicably one of the highest selling items of the day was a medical bracelet with the words "JAMES BROWN ALLERGY PENICILLIN" etched into it. It was estimated to go for $200-$300 and sold for $32,500.

However, one of the most coveted items was Brown's "Sex Machine" belt, which oddly enough went for only $4,750.

New York magazine reported that as the belt was going on the block, auctioneer John Hayes quipped, "And now, the Sex Machine belt...I've waited my entire life to say that."

Haven't we all John, haven't we all...

Related links:
James Brown in concert via NPR
YouTube: James Brown and Pavarotti
Feature: James Brown, 1933-2006

Got news tips for Paste? E-mail news@pastemagazine.com.

Others Tagged With