M. Ward, Jim James, Conor Oberst reuniting for new album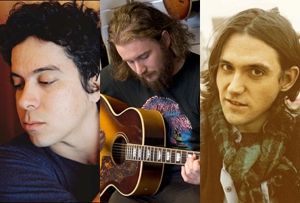 It's a bird... it's a plane... It's a slow-singing, guitar-slinging, floppy-haired supergroup! My Morning Jacket lead crooner Jim James just announced in a recent Rolling Stone interview that he's recording an album with buddies/former collaborators M. Ward and Conor Oberst.
In case the Superman allusion's not working for you, let's try a simile. These three are like the
Neapolitan ice cream
of music—the dark and moody chocolate (Oberst), the soothing and familiar vanilla (Ward), and that slightly zany (some might say highly suspicious?) strawberry (James).
All clunky literary devices aside, this is fantastic news for fans of the "Monsters of Folk," as the trio dubbed themselves when it
toured together in 2004
. Although so far details are scarce on the upcoming album, in February, the proprietor of a blog called
The Dark Stuff
ran into Bright Eyes producer Mike Mogis—at an Omaha caucus, natch—who told him that "he would soon be working on an album from Conor Oberst, M. Ward, and Jim James together."
Not that any of the three of them have been wanting for work in the meantime: Ward produced and played guitar as the "Him" of

She & Him

, James and

My Morning Jacket

are spreading their

Evil Urges

across the globe, and Oberst is preparing to release his first proper

solo album

on Aug. 5.
For a taste of the Neapolitan sundae, visit the excellent blog

I Am Fuel, You Are Friends

to listen to and/or download a bootleg from the Minneapolis show on the aforementioned "Monsters of Folk" tour, or peep this video of Ward, James, and Oberst performing the Bright Eyes song

"Landlocked Blues"

at a Barack Obama rally in Omaha earlier this year:
Related links:
MyMorningJacket.com
Others Tagged With