Mad Genius
Around The World With A 21st Century Folklorist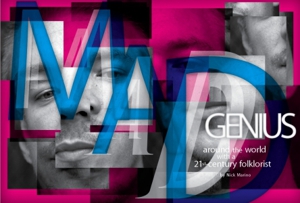 In the East London neighborhood of Shoreditch, a music festival called Stag and Dagger has invited more than 100 artists to perform on a single night in a variety of venues, one of which—the Hoxton Square Bar & Kitchen—is positively convulsing right now, with hundreds of thronging bodies all scrunched into a black-walled, back-room performance space. The evening's headliner is a Philadelphia DJ named Wes Pentz, who is billed on the poster as Diplo, and whose set is driving one young reveler, in the heat of the moment, to strip down to his boxer shorts and dance.

Diplo's repertoire provokes a physical response all over the world. This is partly because the music comes from all over the world—from Brazil, Baltimore, Jamaica, Canada, Australia, Argentina, Atlanta and Sri Lanka. It comes from the slums, streets, gutters, studios, skating rinks and radio waves of Planet Earth, and then it finds a home on Diplo's hard drive, where he can redistribute it through those very same channels and then some—over the Internet, on a mixtape, in a nightclub. The constant amidst all this music from all these places is a hard-nosed beat, a percussive language that translates everywhere.

Diplo, 29, is blond, stocky and droll, and over the last few years he has become a tireless one-man clearinghouse for the world's coolest music—he finds it, broadcasts it and then repeats the cycle. In this way, he has updated the template set by 20th-century song hunter Alan Lomax, who scoured the countryside, in the U.S. and abroad, in an attempt to document indigenous musical folkways. Like Lomax, Diplo seeks unpolished sounds with strong ties to local communities, which is one definition of folk music, even though Diplo's tastes run more toward visceral club bangers than rustic ballads. Diplo will play popular tracks if they fit his standards, but he's most interested in championing undiscovered talent, and he has a particular soft spot for artists who live in forgotten corners of the world and don't otherwise have the means to get heard. He's started a record label, Mad Decent, as a vehicle to give their sounds a real shot at global exposure. Since its inception in 2006, Mad Decent has released a staggering amount of music in almost every conceivable format, including full-length CDs, half-length EPs, mp3s, vinyl records and the label's podcast series, which features multi-artist mixes from Tel Aviv, San Francisco and Buenos Aires, and is now on its 29th volume.

For all of his travels, Diplo is most strongly associated with the music of Brazil. Mad Decent's first official release was an EP called "Melo Do Tobaco" by Bonde do Role, a puckish group that has helped popularize the dance-music subgenre known as baile funk, which—until Diplo started excavating it—was unknown outside of Brazil. The genre derived from the hedonistic Miami bass movement of the late 1980s, which introduced explicit sexuality and a brutal, tribal beat to the hip-hop lexicon. Baile funk lyrics are delivered with desperate intensity—they're not quite sung or rapped, more like shouted—and the genre was created in Rio De Janeiro's infamous favelas, hillside ghettos perceived by the developed world (including the affluent parts of Brazil) as lawless, drug-infested war zones. In the bar before Diplo's show, former Bonde Do Role vocalist Marina Vello told me that she'd grown up middle class and had never been to a favela until she met Diplo. "He goes to the baile funks in Brazil," she said, "that not even the most gangsta guys go to."

Now that Diplo's on stage—or, rather, tucked into a corner DJ booth—he's jamming a whole range of genres. He plays hip-hop from Dead Prez, Baltimore club music from Omari Bannister and Rye Rye, big-beat electronica from The Prodigy and U.K. garage from T2. And then comes the baile funk, which juxtaposes rugged Brazilian rhythm with the hook from The Eurythmics' "Sweet Dreams," then the bassline to Queen and David Bowie's warhorse "Under Pressure." By the time the show ends, the ground is littered with empty bottles—the rowdy crowd has largely moved on, even the guy in his boxers, and Diplo winds things down with a trio of 1950s Americana: "Jailhouse Rock," "Tutti Frutti" and "I Only Have Eyes For You."

It's about one in the morning by the time Diplo emerges from the club and steps into the chilly London air, wearing a heather-grey hoodie and carrying his laptop (his primary instrument during DJ sets) in a backpack. He makes small talk for a while outside the venue, and poses for pictures. Eventually he meanders down the street with a small entourage. This is his last night in London after a few days of down time between tours. He's just finished a concert run across Western Europe, and I've arranged to join him for two further dates in Southeast Asia—one in the Indonesian capital of Jakarta, and the other in Singapore.

Diplo has had a busy few days in London. He logged time in a local studio producing a baby band called The XX. He spent a night in trendy Soho spinning Dirty South rap records after a show by The Black Lips, a sleazy-chic Atlanta rock band known for its onstage insanity. Just before the show in Shoreditch, he met with Brooklyn vocalist Santogold, who was in town promoting her new album, which he co-produced. And now, after all that, he's standing on a London street corner, not quite ready to pack it in. Our flight is scheduled to leave at noon tomorrow, and Diplo tells me he isn't planning to sleep tonight. I ask him what time he'll arrive at the airport for our flight. "Ummm," he says, "definitely before it leaves."

A few days before arriving in London, I paid a visit to Mad Decent headquarters in Philadelphia. I'd wanted to see the label's physical command center—the brick-and-mortar home of this globetrotting company—and to meet Diplo's business partners, associates, homeboys, whatever they were.

The label is housed in a structure originally built as a showroom for tombstones. It's a squat building in a neighborhood full of them, a swath of North Philly characterized by a glossy car wash and the Get Money Girl rapid-refund center.

When I arrived, Derek Allen—a reedy 26-year-old studio engineer with a wispy red beard—let me into the building and showed me around. The concrete floor was stacked with cardboard boxes and strewn with packing peanuts. Off to one side was an upturned skateboard. The walls displayed a series of black-and-white art posters with messages like, "Beware of persuasive men with beards" (starring Osama bin Laden and Jesus Christ) and, "Racism: It's otay" (starring Buckwheat of The Little Rascals). The neighborhood UPS man has apparently become suspicious of the posters, but for the most part Mad Decent appeared to be operating incognito. Their building's façade, after all, still advertises itself as the Finney & Son mausoleum emporium. "Most people in the neighborhood," Allen said, "seem to think it's dead-body storage."

Allen took me upstairs to a narrow kitchen, which stretched across a balcony overlooking the downstairs space. The breakfast table was occupied by two laptops, a stack of magazines and a butcher knife. On one side of the kitchen was a cozy office with a desk and a futon, and on the other a recording studio with a door that could be fastened by padlock. The whole place seemed like an industrial-strength bachelor pad, the sort of crib a bunch of college buddies might dream of owning if one of them ever became, say, a famous musician. The building is zoned for both residential and commercial use, which means the guys can throw huge events and tell police with a straight face that they're just having a house party. But on the day I visited, the place was quiet except for the burbling of an aquarium, home to Mad Decent's pet turtle, Snitch.

Allen fed the turtle, and before long Jasper Goggins arrived, having taken the train down from New York. He wore spotless white Nikes, dark corduroy pants and a rumpled purple dress shirt missing two buttons.

Goggins is Mad Decent's label manager and, at 32, its oldest employee. He's also part-owner of Turntable Lab, a respected bi-coastal DJ retailer founded in 1998. Before Turntable Lab had a storefront, it sold music online—and before Diplo had Mad Decent, he sold his music through Turntable Lab, doubling or tripling the sales of his peers.

Goggins has a businesslike air, though he was sanguine about his label's role in a musical economy that's more nebulous than ever. "If you want to get down to it, yeah, there's rights issues," he said when I asked about Mad Decent releases—like the free podcast series—that include snippets of music from obscure artists around the world. "But most people understand that the amount of money involved is so small that it doesn't really matter. It's much better just to have the promotion. It's not like there's massive amounts of money being made on this stuff—or any money being made." He and Allen began discussing the commercial viability of vinyl in an age of plummeting CD sales. Vinyl, Allen had heard, is holding steadier in the marketplace than CDs, which might be good news for Mad Decent, since the label continues to press old-school LPs in limited runs for DJs and serious fans. (The label also relies heavily on digital distribution, releasing its music commercially via iTunes, and giving away loads of mp3s on the company blog. In a lot of ways, CDs are Mad Decent's least-essential format.) As the conversation wound down, Allen fiddled with a toy light saber.

Afterward, Goggins and Allen took me into the studio and ran down a list of forthcoming Mad Decent projects, including releases from Alabama hip-hop act Paper Route Gangstaz, and Baltimore rapper Mz Streamz, plus a cumbia title by Mexican artist Toy Selectah. In passing, Goggins mentioned that Diplo has also just recorded an entire reggae album. Mad Decent tends to release music as soon as it's ready, without planning a proper promotional rollout. Goggins acknowledged that this isn't exactly the preferred method of running a record company. "It's cool to put out whatever we want to put out, and let everybody catch up," he said. "It would probably be better to have more balance there, but at the same time that's also a reflection of the way Wes works. He's very stream-of-consciousness. The whole business model is a reflection of his personality."

Soon a heavy-lidded 21-year-old man showed up wearing a baggy hooded sweatshirt with his name on it. This was DJ Sega, a Mad Decent protégé who first became known around Philadelphia for spinning music at a local skating rink that refused admission to anyone over 18. Sega likes to create club remixes of familiar pop songs—running the gamut from Lil Wayne to Papa Roach—and he also enjoys working with sound clips from vintage video games. He's built songs around audio rips from Mortal Kombat and Sonic The Hedgehog, and has somehow added an element of funk to AOL's "You've got mail" message. The night before we met, Sega played for an audience of high-school kids in Brooklyn. Standing in Mad Decent's kitchen, he told me that he's also played gigs in Ottawa and Boston, and that he's got his eye on Japan. "I'm hoping," he said, "to get more international."

To fully grasp the scope of Diplo's travels, I call his international booking agent, Belinda Law, a cheerful Australian woman now based in London. Her firm, Elastic Artists, also books shows for Animal Collective, Kid Sister and Bonde Do Role.

I ask her where she's sent Diplo over the years, and she puts me on hold to consult a map. "OK," she says. "Sweden, Finland, Denmark, Belgium, U.K., Ireland, Germany, Netherlands, Spain, Portugal, Italy. Switzerland? Poland, did I send him there? I think I have. Ummm, Israel. I've sent him on a tour to South Africa—to Durban, Cape Town and Johannesburg. About to send him to Australia at the end of September for a full tour, which is most important because Australia is my motherland—please be sure you put it in bold, the greatest country in the world. Russia, I have sent him to. No no no, didn't send him to Greece. I think that's basically it."

As a client, Diplo presents a unique set of opportunities. He's in demand around the world—"I mean, he's not available a whole lot," Law says, "So it's not like he's elusive, but when dates come up they're like gold to us. When I send out an e-mail to the promoters with the availabilities, they go absolutely crazy."—and yet he's ambivalent about playing the biggest, most glorious gigs. His ego doesn't require an appearance on the main stage at mega-festivals like Glastonbury, Law says. "He would probably always opt to do the dive bar 40 miles outside of Paris for no money, but a cool party."

Last year, Diplo did land a booking at the Big Day Out festival, Australia's signature concert event, and he used the opportunity to arrange a music-education workshop for Aboriginal children deep in the outback. He taught them how to make and record music, and with verses from the kids he recorded a deadpan rap track called "Smash A Kangaroo" that appeared on Mad Decent podcast #13. The overall project was dubbed Heaps Decent, which has become the name of Mad Decent's philanthropic arm. (Diplo plans to extend the Heaps initiative by opening a recording studio in a favela.) The first Heaps installment was heavily photographed, and the kids mugged hard for the camera while wearing Mad Decent shirts, flashing peace signs and holding footballs. In one particular photograph, though, they face away from the camera. All you can see are their backward baseball caps and—between their heads—Diplo standing at a whiteboard giving some sort of music lesson. The exact parameters of the discussion aren't clear, but several words written on the board provide clues: "AC/DC," "bounce," "reggae," "Smooth Criminal," "breakdance," "buffalo," "Aussie Rules."

In a certain way, Diplo's trip to the Australian bush was a special endeavor, a chance to create a real on-the-ground connection with a particular group of long-persecuted people, right in their own back yard. Then again, Diplo has built his reputation and his record label by visiting other neglected parts of the world, ensuring that the voices of the people there are not drowned out, that the light in these places is allowed to shine. This is his franchise—he finds beauty in places nobody else is looking.

"I was looking at those photos," Law says, "going, 'That goes on in my country? Oh my God. How do I live in this country and I don't even know what's going on?' I was embarrassed as an Australian."

Thomas Wesley Pentz had an itinerant childhood, but he didn't leave the U.S. until he was an adult—his family wasn't wealthy enough for him to travel abroad. As a young man, Pentz worked at Subway. His first car was a Volkswagen bus. He grew up in an unreconstructed stretch of Florida somewhere between the rugged exurbs of Orlando and the airbrushed oasis of Daytona Beach. His parents still live just inland from the coast, in the town of Edgewater, and his mother works part-time in his father's bait shop.

Pentz graduated high school in 1997 and enrolled at the University of Central Florida. "I remember when I first met him—I kind of didn't like him," says Greg Rivera, Pentz's college roommate and, today, co-owner of the Mishka streetwear company, which has made shirts for Mad Decent. "He also was a white kid with dreads. And most white kids with dreads, obviously there's something up with them. He was like this white punk-rock-hippie/skateboard kid. He was always skateboarding around campus." Pentz and Rivera moved into an off-campus flophouse known as the Hippie Hole, home to bonfires and a compost pile. By this time, Pentz had established an interest in filmmaking. "I had a collection of handmade Mr. T dolls," Rivera says, "and he came and made this video of me for his class or something. That's one of the things that we first connected on. I think that was the first time that he realized that I was a weird kid, and I realized that he was a weird kid."

Pentz eventually left UCF for Temple University in Philadelphia—"I wanted to move to a city, but couldn't afford New York," he says—and made tentative steps down a few different career paths. He fancied himself a Kerouac-ian travel writer, and applied to Fodor's. He sold records on eBay. He worked as a substitute teacher. He did social work, taking one particular child under his wing, "but then I got in mad trouble for taking him over to my house and teaching him to DJ and making him a part of my life." After that, Pentz began DJing more.

He took the stage name Wes Gully, then adopted Diplo—derived from the diplodocus, a colossal dinosaur. Along with a partner who performed as Low Budget, he formed the DJ duo Hollertronix, which became known in the Northeast for throwing parties and spinning mash-ups, a then-fresh concept that entailed mixing the vocals from one song with the music of a very different song. A 2003 mixtape, Never Scared, built the duo's reputation. It began with the sound of a child rapping and went on to stir disco, electro, funk, rock and hip-hop into a dance-music cocktail. Ludacris, Björk and The Cars all appeared at various points, and in one memorable moment Hollertronix fused the bassline of Clash anthem "Rock The Casbah" to a distorted verse by adventurous rapper Missy Elliott. The various genres didn't sound much alike on their own, but by synthesizing the sounds Hollertronix gave them an internal logic: Party music was party music. A beat was a beat. Genre boundaries were artificial. The specific sounds didn't matter as much as their general vibe. In context, the Missy Elliott and Clash tracks made sense together—both generated an intangible, primal pleasure.

Never Scared sounds dated today, but the project capitalized on cut-and-paste music-making techniques that technology had just recently made possible, and it established the foundation upon which Diplo would build his career.

He discovered he could make $500 per show—"the most money [I'd] ever had in my life," he says—while playing a five-night run on the West Coast. His travels expanded. He developed a love affair with Brazil and made the short leap from mash-ups to baile funk, the sound that would come to define him. This wasn't the first time that an American musician had fallen hard for Brazilian sounds, but Diplo's predecessors—notably Stan Getz and David Byrne—had become obsessed with more accessible music, the syncopated shuffle of samba in Getz's case, and psychedelic Tropicália in Byrne's. The music Diplo liked was much rougher.

He released one baile funk mixtape, then another. Around this same time, director Fernando Meirelles unveiled City Of God, an epic film that lent grace and pathos to favela gang wars. Thanks to the movie and the mixtapes, the labyrinthine hillside slums of Rio became to the mid 2000s what the streets of Compton were to the early 1990s—a bizarre nexus of real-life bloodshed and fantastical curiosity. International interest mushroomed. Diplo produced a track called "Bucky Done Gun" for Sri Lankan expatriate M.I.A.—his girlfriend for a time—that ran on baile-funk jet fuel. A German record label put out a compilation called Rio Baile Funk: Favela Booty Beats, which was reviewed in the edgier outposts of the rock press. A guy in Finland started a baile funk blog.

Diplo shows no signs of abandoning the sound. This fall, he's scheduled to release Favela On Blast, a documentary collaboration with Brazilian director Leandro HBL. In researching the film, Diplo and Leandro—who, as a white American and a light-skinned Brazilian, were both seen as foreigners—visited 60 favelas and interviewed more than 100 people to illuminate the music, technology and humanity that thrives within the insular favela communities. "There are so many moviemakers here that could have done this project before," Leandro tells me via phone from Brazil, "but there's like this invisible wall that people don't really cross." Leandro believes the favelas are not as dangerous as everyone seems to think. "Sometimes for Wesley, for Diplo, he would be like 'This is fun,'" Leandro says. "But at the same time, he isn't living here. Because you would have a 15-year-old kid with a machine gun and a rocket launcher, and there's no police around."

The baile funk scene, Leandro says, is "so huge that people have no idea." And yet the favelados themselves must rely on outsiders to tell their story. Even now that the world has an appetite for favela culture, Brazilians are unable to easily tour in the States—would-be entertainters face exorbitant travel costs and an arduous immigration process. It took Leandro—an established filmmaker—six months to get a U.S. visa. "You know how difficult it is to go to the States for black-collar Brazilians? Don't even think about it," he says. So at least for now, he and Diplo act as their surrogates.

When I got to London, one of the first things I did was visit a nightspot called Favela Chic. I'd read about this place in a guidebook, and discovered that it was only about a block from Diplo's hotel in scruffy East London, just down the street from a painstaking graffiti portrait of Oscar the Grouch. Favela Chic was designed, or so I had read, as a hipster shrine to the Brazilian slums that have gained so much cultural caché over the last few years.
As I walked through the front door, I heard the unexpected sound of three middle-aged men on stage in Hawaiian-style shirts playing rockabilly. I ordered a Brahma beer, imported from Brazil, as the band ran through "These Boots Are Made For Walkin'." Some people danced. Two couples made out. The clientele was thoroughly bourgeois and overwhelmingly white. The interior-design scheme revolved around dilapidated wood and big green ferns, plus a lot of kitschy decorations hanging from the ceiling. I discovered that Favela Chic doubled as a restaurant, and noted that the menu offered feijoada—a Brazilian bean-and-rice dish with pork—for 12 pounds, or about 24 U.S. dollars. For the 58 million Brazilians who live on less than a dollar a day and likely sleep in actual favelas, this one meal would cost almost as much as a month's pay.

As I sat there in the club, which felt like a cross between a plantation and a tiki bar, I thought to myself that Favela Chic must be Diplo's worst nightmare. Utterly commercial and relentlessly tacky, the venue diluted everything that makes favela culture so powerful—the humanity, the sexuality, the destitution, the humor, the violence—sanding off every edge in a gleeful act of cultural colonization.

Curious to hear Diplo's take on Favela Chic, I bring it up a couple of days later as we're riding in the back seat of a car from the Jakarta airport to our hotel. His position surprises me. It turns out that, although he hasn't visited the London club, he actually performed at the original location in Paris. "As cheesy as it is, that's how you access it. That's how you reach people," he says. "In a weird way, me doing this film is kind of doing the same thing." In other words, since most people will never venture into a favela, you have to bring the favelas to them, making the ultimate urban ghetto something to experience safely. "The goal for those favela kids is to play in the Hard Rock Café in Rio, which is the shittiest place to go," Diplo says. "It's all preppy. But they want to be rich. They want to be preppy." And that's where the whole notion of "favela chic" becomes discordant. "It's not sexy to be poor in Rio," he says. "It's unsexy. It's only sexy everywhere else in the world."

Diplo has his laptop with him in the car, which is navigated by a guide, Ajie, and a driver, Rangga, who will escort us through Jakarta over the next 24 hours in a Nissan sedan with a right-side steering wheel. Through the laptop, Diplo plays me some tracks from his forthcoming reggae project, a collaboration with a British DJ named Switch that will be released under the pseudonym Major Lazer. Diplo says he's hoping to release the album through an outside label—"Somebody that can handle it, get us some money"—but the sound is pure Mad Decent, chockablock with blasting air horn, minimalist snare drum, heavy surf guitar, rapping, spaghetti-Western allusion and the sound of a clopping horse.

It's Saturday morning in Jakarta, and highway traffic has gridlocked. Diplo pops on his headphones and sets about finishing a blog post he'd been writing on the plane. "In Da Club," the mega-hit by American rapper 50 Cent, comes on the radio. A man walks between lanes, selling water. Diplo glances up, then goes back to work. Traffic eventually moves. The radio plays Blur, The Supremes, Red Hot Chili Peppers. We pass a huge slum, a series of decaying buildings with laundry hanging outside. The rooftops are made of corrugated tin, just like in a favela.

After checking us into our hotel, Ajie and Rangga drive us to the suburb of Menteng and a street called Jalan Surabaya, which is lined with vendors selling shoes, luggage, sunglasses and puppets out of tiny booths. Traffic is just as bad in the city as on the highway, and the crawling speed allows us a glimpse of street life in the Indonesian capital, a low-slung city that—with its ash-grey smog and rampant poverty—seems like Indonesia's version of Los Angeles. Through the passenger-side window, I see a child getting a bath on the sidewalk. Diplo snaps a picture of a mysterious sign promoting a "cat oven," and spots a young man wearing a Cannibal Corpse shirt. "Metal is popular here," Diplo says knowingly. On the other side of the car, someone walks through traffic trying to sell a giant inflatable paddleball.

The market is open to the air, which in Jakarta smells like a mix of incense, clove cigarettes and exhaust. Diplo has planned for us to meet with Hedytia Nimas, the flirty young singer of Indonesian band Polypony. She first connected with Diplo over MySpace, and he says her band might sign with Mad Decent. Nimas has straight black hair and high cheekbones, and wears a pink dress to go shopping with Diplo.

We wander around the booths, and it doesn't take long for us to find shopkeepers selling records. The selection illustrates the strange phenomenon of musical globalization. Here, in this Jakartan record mart, are Olivia Newton-John and Clarence Carter on vinyl, along with the Ghost soundtrack on CD. In short, the selection resembles what you might find at an American thrift store—outdated, cheesy Western pop. But Diplo, a seasoned crate-digging record collector, doesn't give up easily. He eventually walks away with a ragga compilation featuring an entire roster of artists he's never heard of—which is the point.

Down the street we come across two more record stalls, and there we run into David Tarigan, one of Nimas' friends, a Jakarta scenester who's produced songs from local retro-pop band White Shoes & The Couples Company. Tarigan sports a paperboy cap, a goatee and an Allman Brothers T-shirt. I ask him if he knows who Diplo is—"Of course," he says—and how people in Jakarta know about this American DJ, a man who's respected on the dance-music scene but is hardly a household name, even in his own country. "You've got a revolution in technology," Tarigan says. "You've got Internet. You've got MySpace. You've got Diplo."

In his set later that night, a few hours after leaving the market, Diplo spins a beat by American super-producer Timbaland and follows with an addictive track called "Over and Over" by U.K. dance-pop outfit Hot Chip. He then dabbles in heavy house music and dancehall reggae, plus a song by the South Rakkas Crew, a Caribbean-inflected Mad Decent act from Canada that fuses these two genres. He plays a mini set of old-school techno jams, at least two M.I.A. tracks, a Bloc Party song he hasn't spun in ages, a revved-up version of Peter Bjorn and John's "Young Folks" and a throbbing remix of Paul Simon's 1986 hit "You Can Call Me Al." And, of course, he plays baile funk, acting as a conduit, letting the music pass through him—from one third-world country to another.

In Singapore, Diplo is booked on the closing night of the Worldwide Festival, a three-day event conceived by English DJ Gilles Peterson, who is to global dance music what Perry Farrell is to American alternative rock. The festival roster includes more than 30 artists, about a third of whom are local. The rest are from places like Thailand, Japan, France, Germany and Britain. Diplo is one of three Americans on the bill, and his reputation precedes him. At one point, late in the night, I see a Malaysian rapper named AraByrd slip him a demo disc.

The festival's humid final night is held at Fort Canning Park, a grassy hillside across the street from the National Museum of Singapore. On the festival grounds—along with corporate sponsorships and two different stages—is a brown banner devoted to Vasco da Gama and the 15th-century
spice trade.

Diplo's set begins with a wailing police siren, which he chops up so that the sound goes to half-time for four measures. Next he adds tremendous kick-drum, then a touch of vocals—and with these few moves he turns the siren into a song. Over the next 100 minutes he plays hard house, swervy reggae and pounding Baltimore club. A dude in a Kurt Cobain shirt jumps on stage, and Diplo plays a raucous dance version of "Smells Like Teen Spirit." He plays Daft Punk and The Prodigy and Atlanta hip-hop wordsmith T.I., and he adds a beat to the famous opening riff of AC/DC's "Thunderstruck." He also drops a remix of M.I.A.'s "Paper Planes" that features a guest verse from Houston rapper Bun B, a call for poor people everywhere to rise up:

Now one thing's for certain, and two things for sure
Being poor is a disease, gotta hustle up a cure
Start with your head, homey, then use your hands
If you try it in reverse, you don't even have a chance
We worldwide worried with the hunger and the thirst
From the third world countries to the second and the first
It sounds like a verse, but it's more like a plan
Get your Robin Hood on, put some pressure on the man

Palm trees sway 50 feet above the stage, and through the trees I glimpse the skyline of Singapore, the world's most orderly city, an Asian metropolis that outlaws spitting and assigns drug dealers the death penalty. Yet even here, 9,582 miles from Philadelphia, the concert experience feels familiar. The ground is littered with empty bottles. A shirtless guy smokes a cigarette. A tall woman in glasses stands in place and rolls her shoulders. Someone sends a text message. Someone throws a drink. Two pretty girls pose for a picture. Sweat pours. Lights flash. A full moon glows overhead. Diplo plays baile funk. We could be anywhere in the world.