Jayhawks Mark Olson and Gary Louris talk new album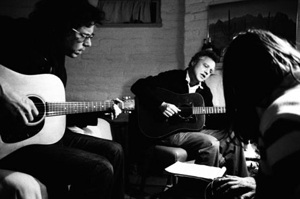 The last time Mark Olson and Gary Louris put out a record together, O.J. Simpson was still on trial. The year was 1995, and that album was the Jayhawks'
Tomorrow the Green Grass
, a high point for a band that had already put out some of the best music of the early 1990s. But Olson then married singer/songwriter Victoria Williams and retreated to the desert of Joshua Tree, where the couple formed The Original Harmony Ridge Creekdippers. Louris continued with his bandmates Marc Perlman and Tim O'Reagan in The Jayhawks. But 13 years heals a lot of hard feelings, and the pair is getting ready for their new album,
Ready For the Flood
, to hit stores this September on Hacktone Records.
"We hadn't really talked to each other and dealt with certain issues—post-Jayhawks things," Louris says of the interim years. "We just didn't communicate and then we worked on these songs [for the film, The Rookie] and kind of talked about everything and got to know each other again."
One of those songs ended up on Olson's last solo record,
The Salvation Blues
, and the pair decided to play some shows together. They enjoyed it so much, they decided it was time to make a record together again. "At the end of those [two tours] we said, 'This is a lot of fun, let's do it again, but before we do it again, let's have a new record, you know, let's do something,'" Olson says. "We basically wrote the songs in [Gary's] garage. Then we grabbed some old songs that we really liked and had never recorded, and we felt like we had an album."

"The songs just come easily for us," Louris says. "You know, Mark and I just write well together; we just complete each other in many ways, and it's just been great. We wrote a lot of songs for this record very quickly, and it just was, I don't want to say 'effortless,' but it wasn't hard."
Chris Robinson of
The Black Crowes
had produced Louris' first solo record, which came out earlier this year. They invited Robinson to sit in, and he wound up producing, singing back-up and adding some harmonica. "Chris had always treated us well," Olson says. "We did a lot of tours with those guys, and he was always kind of funny and interesting and he knew a lot about old-time rock 'n' roll and blues and country and soul. He's kind of an encyclopedia about that stuff."
They recorded live at Sage & Sound Studios in Hollywood, singing together in the same room without headphones for the first time. Both musicians also developed a finger-picking style that gives the recording an old-school folk vibe. "I can't tell who's singing what parts on some of it," Olson says.

"Both of us have lived a lot since the Jayhawks," Louris adds, "and we've gone through our own chapters of our lives. We just are a little older and, I don't know if we're wiser, but I feel like the music we make isn't punk rock, it's not kid rock, you know? It's like stuff that gets almost better with experience. It's almost even more collaborative than it was in the latter stages of the Jayhawks. We're really writing the songs. Every song is pretty much together, 50/50. And [we're] starting from scratch a lot of times, which is a little different than the latter-day Jayhawks where we'd each have our songs and we'd kind of tweak them together."
As for the Jayhawks, Louris claims that chapter is basically finished. But for at least one day this year, the old band will share a stage. The 1994-1995 line-up of Olson, Louris, Perlman, O'Reagan and Karen Grotberg will reunite for the Azquena Festival in Spain. "If it's so much fun we can't stand it," Louris says, "maybe we'll do something similar, but at this point, it's a one-time only thing, and we'll see where it goes."
Click
here
to read Josh Jackon's full Q&A with Olson, and
here
with Louris.
Related links:
Mark Olson on MySpace
Gary Louris on MySpace
Feature: The Heart of The Jayhawks
Got a news tip for Paste? E-mail news@pastemagazine.com.
Others Tagged With