Michael Ian Black makes arch nemesis out of David Sedaris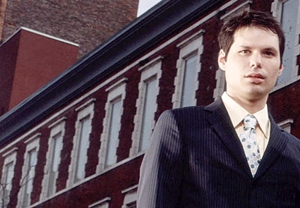 If you can't beat them, start and maintain a phony Internet fight with them without their knowledge. At least, that's what comedian Michael Ian Black is doing to author David Sedaris.

Black (The State, Wet Hot American Summer, VH1's I Love the __'s, Stella), in mock exasperation at Spedaris' domination of best-seller lists, has incited a "wildly inappropriate feud" with the memoirist by way of Black's personal blog.

That's right, Spedaris:


"When referring to him, put a 'p' after the 'S' in 'Sedaris,' so that what you're saying is 'Spedaris.' This isn't a put down exactly; it's actually just a mispronunciation of his name, but if enough people start doing it, I have no doubt it will drive him fucking crazy."
And it all comes just in time for the July 15 release of Black's new book,
My Custom Van: And 50 Other Mind-Blowing Essays That Will Blow Your Mind All Over Your
Face
.
Look forward to more about the faux-feud and the book coming soon to a PasteMagazine.com near you.
Related links:

Literary Feuds: Michael Ian Black takes on David Sedaris
Michael Ian Black - McSweeney's Internet Tendency
Michael Ian Black on YouTube
Got news tips for Paste? E-mail news@pastemagazine.com
.
Others Tagged With